The Euro-Toques Young Chef of the Year competition presented by La Rousse Foods held the contest finals recently in the professional kitchens of Dublin Cookery School in Blackrock and this years winner is Jack Lenards, a young chef mentored by Ahmet Dede of Mews, Baltimore, Co Cork. Announced at a gala dinner at the InterContinental Hotel in Dublin, Jack Lenards won the Euro-Toques Young Chef of the Year competition after a final skills test with a very specific brief for the last six remaining contestants.
The six Euro-Toques Young Chef of the Year finalists were requested to devise two original dishes, inspired by seasonal produce including Irish venison and a selection of raw milk cheeses. Consistently working to strengthen the relationship between chefs and producers, Euro-toques chose the 2018 competition to support the raw milk cheese campaign and champion Irish cheeses.
The Euro-Toques Young Chef of the Year candidates cooked two dishes for five guest judges – chefs Liam Tomlin, Kieran Glennon, Jess Murphy, Graham Neville and Gareth Mullins – first producing a starter or a dessert based on raw milk cheese.
The candidates used one or a combination of the raw goats' cheese and sheep's milk cheese from Silke Cropp and her son Tom's Corleggy, Mike Thomson of Mike's Fancy Cheese Young Buck, the mature farmhouse cheese Cloonconra Aibí by James Gannon and/or St. Tola, the soft goats' milk cheese from Inagh Farmhouse Cheese made by Siobhan Ni Ghairbhith. The second dish every Euro-Toques Young Chef of the Year finalist produced was a main course using an Irish wild Sika venison saddle.
At the finals, judges watched the competitors at work, tasted and tested, and made a decision as to which of the six of these young talents became overall winner of this competitive adventure. Euro-Toques Young Chef of the Year finalists were expected to use their creativity and demonstrate their cooking skills, reflecting a modern approach to the preservation of Irish culinary heritage.
To produce their two innovative, interesting and accomplished dishes the young chefs had 2.5 hours of focused cooking and each of them was marked under three separate headings – execution and work practice, taste and flavour, and presentation.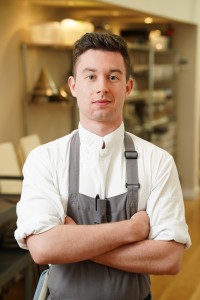 Jack Lenards of Mews , mentored by chef Ahmet Dede won the overall Euro-Toques Young Chef of the Year competition with a main course of Roast loin of Sika deer with barley risotto and Douglas Fir double IPA and a dessert of Poached apple, Tawny cider sauce and grated Young Buck cheese, impressing the judges with their flair, imagination and skill in execution.
The Euro-Toques Young Chef of the Year competition started in July and guided the young chefs through a culinary journey that culminated with the final and gala dinner at the InterContinental Hotel.
The gala dinner featured canapés using Euro-toques Food Award-winning Irish ingredients produced by the shortlisted candidates and courses created by Mickael Viljanen of The Greehouse, Ahmet Dede of Mews, Alan McArdle of Aghadoe Heights, Alberto Rossi of Intercontinental Hotel and Darren Hogarty of Chapter One and was hosted by MCs Domini Kemp and Paul Flynn, while guest chef Liam Tomlin announced this year's Euro-Toques Young Chef of the Year, calling Jack Lenards to the stage to receive the trophy.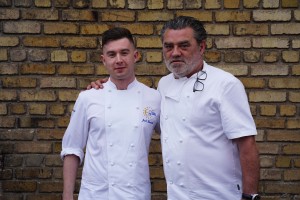 The winner also received the opportunity of a stage with judge chef Liam Tomlin in his four restaurants in Cape Town, South Africa. Jack Lenards will also spend one week at Kruger National Park as well as receiving a Kitchen Aid Stand Mixer. Each finalist also took home a Kitchen Aid Food Processor and a set of personalised knives from Hugh Jordan.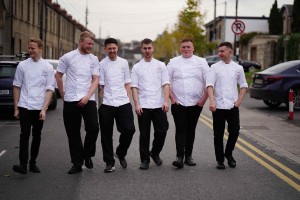 The Euro-Toques Young Chef of the Year competition presented by La Rousse Foods is Ireland's premier culinary competition celebrating Ireland's best emerging culinary talent. Increasingly focused on education, together with presenting partner La Rousse Foods, Euro-Toques Ireland developed a programme for this year's competition that included workshops, demos, visits to suppliers and culinary activities aimed at mentoring and developing the exciting new Irish culinary talent participating in Euro-Toques Young Chef of the Year, including a trip to Ballymaloe House and Ballymaloe Cookery School, Food on the Edge 2018 and a surprise trip to Italy to dine in chef Riccardo Camanini's Michelin-starred Lido 84 in its exquisite setting on the shores of Lake Garda.
Manuela Spinelli, Secretary General of Euro-Toques Ireland said, "On behalf of all the Euro-toques Ireland team I would like to congratulate Jack on this achievement. The standard of talent was exceptionally high this year and all six finalists represent a bright future for Irish food."
Open to professional chefs under the age of 26, the competition has a proven track record in discovering the finest young talent with former winners including Mark Moriarty who progressed to win the World San Pellegrino Young Chef Competition in 2015.
For all the young chefs who have taken part this contest is a unique experience that will provide recognition throughout Ireland and beyond, and act as a prestigious stepping-stone in their culinary career.
*** *** *** *** *** *** *** *** *** *** *** *** *** *** ***
The six shortlisted finalists for Euro-Toques Young Chef of the Year 2018:
Attila Galambos mentored by JP McMahon, Aniar restaurant
Jack Lenards mentored by Ahmet Dede, Mews
Michael Morrisroe mentored by James Kavanagh, The Strawberry Tree
Jason Nolan mentored by Alan McArdle, Aghadoe Heights
Matthew Stafford mentored by Kevin Aherne, Sage currently working at The Greenhouse
Glen Sutcliffe mentored by Eric Matthews, Chapter One Restaurant
Canapés by the six finalists based on Euro-Toques Food Awards winning produce:
Jack Lenards – Sally Barnes smoked salmon
Matthew Stafford – Sally Barnes smoked mackerel
Jason Nolan – Ballymakenny heritage potatoes
Attila Galambos – Dooncastle Oysters
Michael Morrisroe – Corleggy Cheese
Glen Sutcliffe – Thornhill Duck
Starter The Greenhouse, Mickael Viljanen – Hand-dived scallop, elderflower, jalapeno, frozen oyster cream, caviar
Fish course Mews – Ahmet Dede – Wild Atlantic cod, seaweed shore greens, mussels
Main course Aghadoe Heights – Alan McArdle and Alberto Rossi InterContinental Hotel – Calvey's Achill Mountain Island lamb, carrots
Dessert Chapter One, Darren Hogarty – Caramel and dulse tart with salted lemon ice cream
Petits fours Coco Atelier
In collaboration with InterContinental Executive Chef Alberto Rossi