COLIN O'DALY 1952-2023
An appreciation of the highly regarded chef by Marilyn Bright, a founder member of the Irish Food Writers' Guild.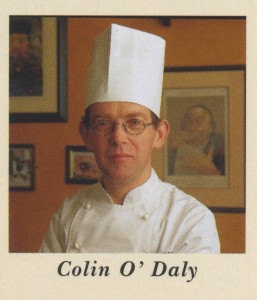 Highs and lows were a recurring theme throughout chef Colin O'Daly's 70 years of life. Initial interest in food was sparked by a childhood spent in and out of hospitals, where by preparing his own food, Colin discovered that certain symptoms could be controlled by diet. This awareness of special needs remained with him throughout his professional life.
At the age of fifteen, Colin talked himself into an apprenticeship at Dublin Airport much vaunted Collar of Gold restaurant, where he had to stand on an orange box to work at the huge range. Colin progressed around the various sections, schooled in classic French kitchen discipline by icons like Johnny Opperman and Jimmy Flahive.
Still at Dublin Airport as a commis chef, Colin won his first gold medal at a catering show – for beef Wellington. He progressed then to Newport House in Mayo where duties included stoking a temperamental ancient range with coal, then to stints at Renvyle House and Ashford Castle.
Exciting times arrived as Colin was appointed head chef at The Park Hotel in Kenmare where Francis Brennan and an enthusiastic young team set about revitalising the elegant old hotel. Given a platform for his creativity, recognition came swiftly and publicity highlighted successive awards, including the early 'Taste of Ireland' trophy sponsored by CBF, as the precursor of Bord Bia was known.
Within a few years Colin struck out on his own, moving his young family to Blackrock in Dublin and converting a bicycle shop to a clean-lined modern restaurant with little more than tins of paint and fittings bought on a shoestring. Living over the shop, it was literally work around the clock, but The Park, as it was known became one of Dublin's hottest venues with full houses lunch and dinner times.
Emulating the innovation of the Roux brothers in London, Colin installed a sous-vide section enabling efficient production of sauces, stocks and slow-cooked dishes. Eventually he was commissioned to supply dishes such as Irish stew and pastas to Irish Rail catering service enabling them to expand the menu beyond the fries and grills that existed then in on-board service.
Within five years Colin felt confident enough to take the plunge to develop larger premises down the street. With the new building extending over three floors and state of the art kitchens, the work became a major project involving architects, specialist contractors and designers. Cost overruns and delays led to mounting financial strain and when the super -smart premises finally opened, fallout from the Gulf war triggered a major recession that saw the shutdown of expense account entertaining and ever tighter strictures from the banks. Disaster loomed quickly and neither the business nor the marriage survived.
Later, Colin was to say that he never forgot the support he had from people in the industry. Offers of work came from various parts of the country and he recalled that his transport was an old borrowed van literally held together by twine. Colin reflected later that it had been a terrible time but trying not to be bitter and being able to see the funny side of things was an enormous help.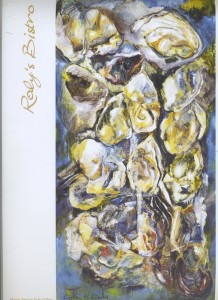 After a year spent working on various projects, Colin was invited to join with John O'Sullivan, Roly Saul and John Mulcahy to develop a new restaurant concept in Dublin. In the still recessionary time the goal was to bring higher standards to a wider audience by presenting haute cuisine at ready-to-wear prices. Roly's of Ballsbridge was an immediate success, opening as a high-volume casual bistro. The concepts developed by Colin still exist there, thirty years later.
After more than a decade at the helm of Roly's, Colin began to step back and found escape from stress through his painting (including beautiful menu covers for Roly's, see left), progressing from hobby painter to well received artist with a string of successful exhibitions. He was particularly pleased that his work was noticed by people outside of Ireland who knew nothing of Colin O'Daly the chef. Reflecting on his work in catering he said, "In this business, it's easy to make work your whole life, but it's essential to take time out and do something for yourself. For me, art carries me to my own quiet space".
He spent his final years in West Cork doing what he loved.