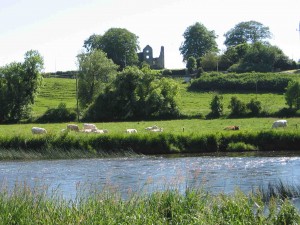 I'm delighted to be able to support the Boyne Valley Tourism Conference, Exhibition and Dinner 2015 event that's being run this week by Meath and Louth Local Authorities, with support from Failte Ireland.
It's a two-day industry event , starting with a 'Familiarisation Tour' of the area on Day One, for those who have not visited this wonderful region before. Then, on Day Two there's a Conference and Exhibition at the CityNorth Hotel. The tourism themes explored at the Conference – "Spirits, Saints & Scholars of the Boyne Valley"; "Sporting Greats of the Boyne Valley"; and "Opportunity Knocks for the Boyne Valley" illustrate the diversity offered to visitors, but (for food lovers at any rate) the best is kept until last, when the fourth element is a showcase of locally produced food at the "Boyne Appétit" dinner.
The 'Boyne Appetit' menu has been created with great care by the hotel's Chef, Jean Michele, specifically to showcase the food from the Boyne Valley area (Meath and Louth) .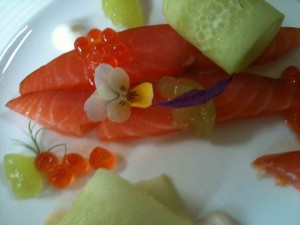 It shows how hotels and restaurants can support local producers and provide a richer guest experience – as many of them already do and some who will be attending include our own recent award winners Tankardstown House and Brabazon Restaurant. It promises to be a real gastronomic experience for the lucky diners, and I am looking forward to introducing some of the delicious local ingredients used during the meal.
BOYNE APPÉTIT
Pre-Taster
(Stameen Apple juice and Dan Kelly's Cider)
AMUSE BOUCHE
Selection of Freshly Baked Bread from the Sweet Pea Barn with Dips
(In Season tomato relish & Green tomato chutney, Derrycamma honey-mustard, Oriel sea salt, Newgrange Gold Camelina Oil)
STARTER
Smoked Salmon and Crab, cucumber salad, lemon rapeseed oil
(Coastguard Seafood, In Season Farm, Derrycamma Farm)
Or
Honey Roast Root Vegetable Soup, chive crème fraiche
served with Sweet Pea Barn sour dough, Slanes chilli flavoured butter
(Lannleire honey, Meade potatoes, Kilbeg dairies)
SORBET
Stameen Apple Sorbet
(Burke's Farm Ice-Cream, Stameen apple juice)
MAIN COURSE
Cider braised pork belly, wholegrain mustard mash, thyme jus
(The Whole Hogg, Dan Kelly cider, Derrycamma Farm, Meade potatoes)
Or
Pan Fried Hake, crushed purple potatoes, red pepper coulis
(Coastguard Seafoods, In Season Farm, Meade potatoes)
Served with fresh vegetables and baby roasters from Meade pots
DESSERT
Buttermilk pannacotta, poached rhubarb, salted caramel ice-cream, scrumchy Muesli
(Kilbeg Dairies, In Season Farm, Burke's Ice Cream, Oriel Salt )
CHEESES
Selection of local cheeses – Boyne Valley Blue, Bellingham Blue, Glebe Brethan
Selection of accompaniments – Sheridan's cheese, chutney and crackers, golden beetroot relish, Lannleire honey.
Tea/Coffee & Chocolates
(Chocolates by Ferdia Fine Foods)
For further information: www.boynevalleydrive.ie/whats-on/boyne-valley-tourism-conference-exhibition-dinner-2015