Shrove Tuesday is one of the best loved culinary landmarks of the year for many families, because the traditional image it conjures up is very hard to beat: simple and mouth wateringly delicious pancakes, hot off the pan.
Not that you have to wait for Shrove Tuesday to enjoy pancakes, which exist in every food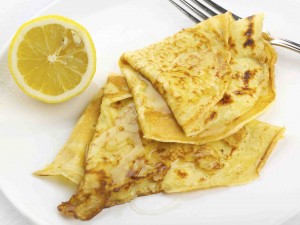 culture and  are very versatile – they can be folded, rolled or stacked, served with sweet or savoury fillings, and they freeze well too – but many will agree that there is nothing to compare with the delicious simplicity of a sprinkling of caster sugar and a good squeeze of fresh lemon juice. Lemons are available all year now, of course, but can it be coincidence that they are at their peak season just when they're needed for using up kitchen perishables like milk and eggs in this last treat before Lent?
Like all very simple dishes, it's important to get the basic techniques right: a good, heavy cast-iron pan is best, it must be preheated and very hot before any fat is added. The best fat is not oil (and certainly not butter, which would be burnt black at the temperature required) but a hard block white cooking fat such as Frytex, which you smear over the pan very quickly to make a thin film of hot fat just before adding the batter. Keep the batter in a jug beside the hob and use a ladle – the first pancake is always a disaster (but tastes just as delicious – cook's perk) but, once the pan is seasoned, it will work a treat and you very quickly learn to judge exactly the amount of batter needed to swirl around the pan and just reach the edges.
Basic Pancake Batter – makes about 8-10 pancakes.
This so easy to make that there is no 'convenience' in buying a packet of pancake mix.
l egg
4 oz/100g plain flour
½ pint/300ml milk
Pinch of salt.
Put all of the ingredients into a food processor or liquidiser in the order given and blend for a minute or so, until thoroughly mixed and smooth, with bubbles rising. Traditionally, a hand beaten batter is left to rest for an hour before use, but this is not necessary when using a blender or food processor.
Before cooking, pour the prepared batter into a jug and have it ready beside the cooker, with a ladle. Also have all the necessary warmed plates, caster sugar and lemon juice ready to hand as, once you start making the pancakes, you have to keep up the momentum and there's no time for anything else.
To cook, heat a heavy frying pan, preferably cast-iron, over high heat. Smear lightly with white cooking fat, leave a moment until just smoking, then pour on a ladleful of batter. Quickly tilt the pan around – if you have judged the amount of batter correctly, it will just thinly cover the whole of the base of the pan. Cook for about a minute, until the top is set and the bottom browned, then flip (or toss) over and cook the other side for about half a minute. Slide onto a warm plate, put the pan back onto the heat, sprinkle with caster sugar and lemon juice, roll up quickly and pass to the first taker. Re-grease the pan and continue in the same way until all the batter has been used up.
In polite households it may seem more appropriate to keep the pancakes warm and serve everyone at the same time – it is certainly more polite, but they never taste as good.