Our annual travels around Ireland have their highs and lows, creating a snapshot of Irish hospitality as it really is. Looking back over 2014, these are some of the experiences that stand out in our minds.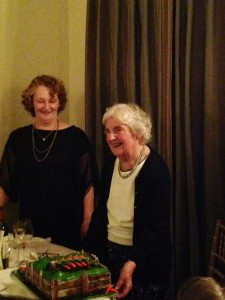 1. Hazel and Myrtle Allen, Ballymaloe February 2014 - Euro-Toques celebrate Myrtle's 90th birthday with a memorable gala dinner following their AGM. Myrtle, who founded Euro-Toques Ireland in 1986, was presented with this brilliant cake to mark the occasion. It was a unique event and, as always, the overnight stay was also very special – Robyn Allen's beautiful handmade soap is a lovely detail the bathroom, for example, and as for the Ballymaloe Breakfast…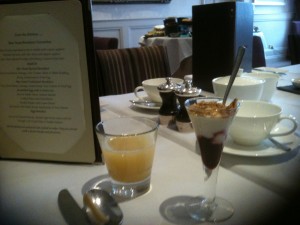 2. And talking of  breakfast, dinner atNeven Maguire's MacNean House & Restaurant is some act to follow, but Neven's breakfast (above) is a pretty good match. Anyone who thinks fine dining is dead should plan a trip to this Co Cavan gem – and plan is the operative word as weekends are booked out months in advance.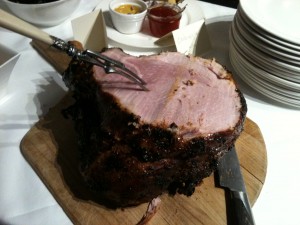 3. Breakfast at Rathsallagh House (ham on the bone, above) has always been a treat worth travelling for, and so is everything else at this lovely, relaxed country destination – where everything is running sweetly these days and a companionable drink with Joe Snr in the old kitchen bar soon sets the world to rights.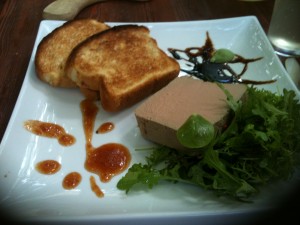 4. Up the road a bit, you won't get a more meticulously sourced (and delicious) meal anywhere than at BrookLodge, where Evan Doyle's Strawberry Tree remains Ireland's only certified organic restaurant and even a classic snack lunch in the Orchard Cafe (above) will linger pleasantly in the mind for a surprisingly long time.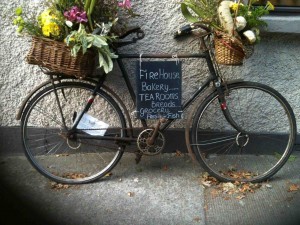 5. The Delgany makes a great destination on a day out in Wicklow, comprising of an independent Grocer stocking great Irish (and other) speciality foods, the wonderful Firehouse Bakery and Cafe, a terrific fresh fish counter by Roberts of Dalkey and several other units.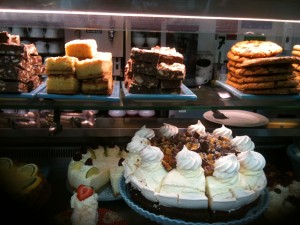 6. And then there is always Avoca, which never ceases to amaze and is always worth a visit for the baking alone. Their foodhalls continue to multiply too, with the latest addition being at the Kilmacanogue HQ, which also sports a Roberts of Dalkey branch, along with Michie Sushi, James Whelan butchers and others. What an operation.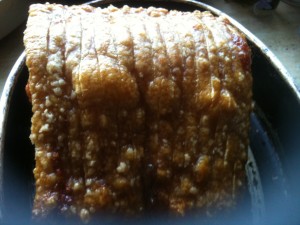 7. The renewed popularity of the independent food shop is something to celebrate and a crunchy pork roast fromHiggins butchers does us very nicely thank you. You don't get meat like this in the multiples – and what's the point of roast pork without crackling?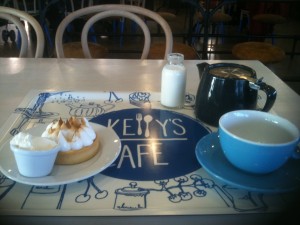 8. Kelly's Café, Wexford. Stylish and fun, with great food and wine, its arrival brought a breath of fresh air to the South-East.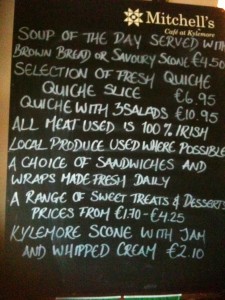 9. Mitchell's, Kylemore Abbey: how good to see such wholesome fare flagged on a board at the entrance to the restaurant of this major tourist attraction.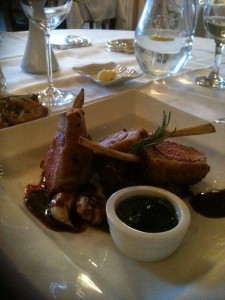 10. Rack of West Waterford lamb - no matter what other equally desirable local temptations Paul Deevy may have on his menu at Richmond House, Cappoquin, no visit is complete without this special treat – and 2014 was no exception. Simply superb.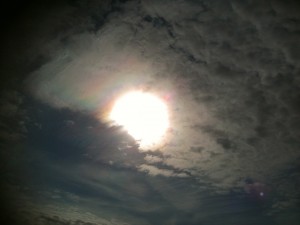 11. A magical Copper Coast sky.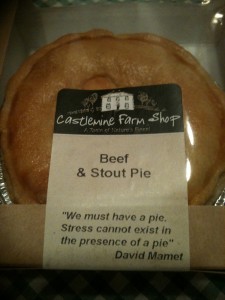 12. Castlemine Farm pies. Once tasted never forgotten – last time we called at the wonderful RuaCafe & Deli in Castlebar, there was a tasting table set up just inside the door and it was attracting so much interest that it was hard going to get past to join the queue on the stairs for the cafe. Magic. And more exciting developments afoot at Castlemine for 2015 too, we hear.
13. Meat and dairy production tend to get star billing for Irish farming, so let's hear it for vegetables and – especially - potatoes. A visit to Mash Direct (founders Martin and Tracy Hamilton with their sons, above) to celebrate their first decade in business was a big highlight of 2014, and it's good to see other growers – notably the Keogh family of north Co Dublin – transforming potatoes from a commodity to a valued product.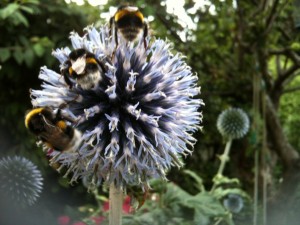 14. Bees feasting in my garden – all's well with the world.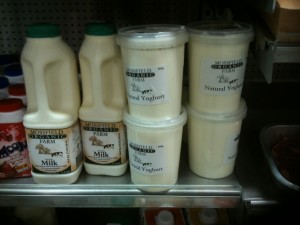 15. Organic production is still getting less encouragement than it merits, but there's no shortage of individual successes in this important sector. Admiring the produce proudly displayed at Miller and Cook in Mullingar on several visits to this exciting foodstore, deli, cafe and bakery during the year, it was good see the Haslam family's Mossfield Organic Farm (above) showcased along with many other gems. 'Local Goodness' is the Miller and Cook motto, and they mean it.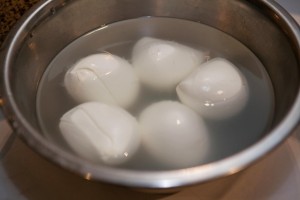 16. There's no dairy like the Toonsbridgedairy in West Cork, where Toby Simmonds and team are creating a whole new branch of Irish dairy produce with the milk from their local herd of water buffalo. A visit to the shop and cafe here is inspirational and fun – you can buy their buffalo mozzarella (above) and other products not sold elsewhere; new products in the pipeline include the first buffalo blue cheese. Can't wait.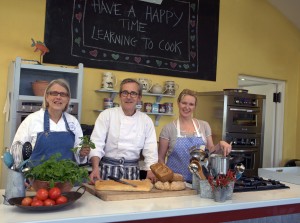 17. Hosted by Darina Allen, her brother Rory O'Connell and Rachel Allen (above) and all of the Allen family – and attracting famous guest speakers from all over the world as well as a host of local talent – it was no surprise that the Kerrygold Ballymaloe LitFestestablished itself so quickly as the no. 1 event in the Irish culinary diary. I really love the food market in The Big Shed and, although all too briefly visited, a special highlight for me last year was listening to the chat between two of the absolute greats of 'real' cooking – Rory O'Connell and Simon Hopkinson – discussing seasoning food, and the merits of adding seasonings before or after cooking. So down earth, and just so interesting. Great stuff.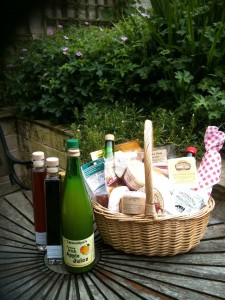 18. The Sheridans Cheesemongers Irish Food Festival is held annually in late May at their Virginia Road Station headquarters in Co Meath. With workshops, competitions and a vast array of artisan food and drink on sale (see above – some of my haul for the day), it attracts a huge and enthusiastic crowd who thrive on the challenge of parking in a muddy field. Last year was the sixth, and very special; it's where I first came across the delicious Richmount Elderflower Cordial, from Longford, and it offered an opportunity to stay and dine nearby at Richard Corrigan's Virginia Park Lodge. This lovely place was favourite haunt of ours for many years, as it was for him, and, having visited briefly earlier in the year, it was fascinating to see how much he had achieved in just a few months – and inspirational to consider that 'Farmer Corrigan's' Co Cavan gardens are to supply some of London's top restaurants. More power to you Richard, and all your team.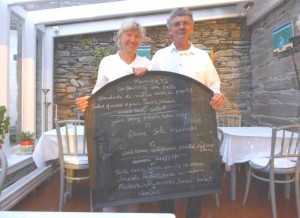 19. They were back for one season only, but what a treat to have the incomparable Ian Parr and Susan Holland working their magic at The Mews in Baltimore last summer. Fingers crossed for another curtain call…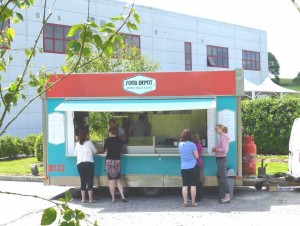 20. A happy find - The Food Depot was one of the big success stories in West Cork in 2014. Operated by MasterChef Ireland 2014 winner Diana Dodog and her husband Mike O'Donovan., this innovative mobile food kitchen is the in-place for weekday lunches at the West Cork Business Technology Park. On Sundays you'll find them nearer home, at Courtmacsherry. It's fun – and the food is terrific.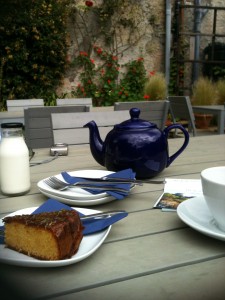 21. 'Tweenmeals' - Afternoon Tea and Morning Coffee – have been the highlight of many an outing during the last year. The many enjoyable examples include 5* treats – coffee on the terrace at Cliff House Hotel, Ardmore, and Afternoon Tea served with retro formality atAghadoe Heights and Dromoland Castle among others – and dozens of delightful examples in little places all over, from coastal retreats like Glebe Gardens, Baltimore; the Heron Gallery, Ahakista; the Union Hall Coffee Shop; Bantry House; andPerryville House, Kinsale to quaint inland oases like  The Tea Rooms, Borris;Burtown House, Co Kildare (above); ; and the slightly relocated Wooden Spoon at Killaloe.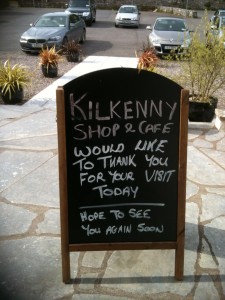 22. Good manners are sometimes noticeable by their absence in 'hospitality', so it's only right to give credit when it's due. Among those who should take a bow are Kilkenny at Shanagarry (above), who also have a board crediting local suppliers at the entrance to their cafe area,  and the admirably consistent Durty Nelly's at Bunratty who have a welcome board at the main door, very considerately explaining the ropes to first time visitors. More like this please.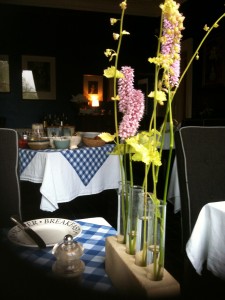 23. 'Eat local' has been the mantra among thinking food lovers for some years now, and it's good to see that the movement is continuing to strengthen – the trend for restaurants having their own gardens, even in cities, is especially exciting (notably Graham Neville's organic garden for Restaurant 41 at Residence on St Stephen's Green). But what about our living decorations?Garden flowers are not only environmentally sound, they have so much more charm than florists' confections – one of the many reasons to love The Mustard Seed, Ballingarry, Co Limerick (above). What a welcoming sight to start a new day, especially when admired beside their brilliant breakfast offering…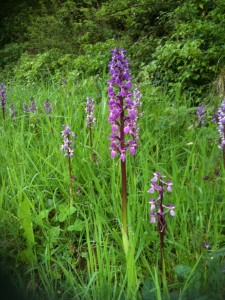 24. Beauty by a Limerick roadside: nature can sometimes outdo even the loveliest of cultured plants.
25. The real drink revolution continues apace across Ireland and it's one of the most invigorating things about travelling the country at the moment. The number and variety of ciders is now catching up with craft beers and guidance, in the shape of Caroline Hennessy and Kristin Jensen's excellent book Sláinte, The Complete Guide to Irish Craft Beer and Cider, was one of the best things to happen in 2014. Signs like the one above (at The Oarsman, Carrick-on-Shannon) are becoming a familiar sight, so we now have local drinks to accompany local foods almost everywhere. Brilliant.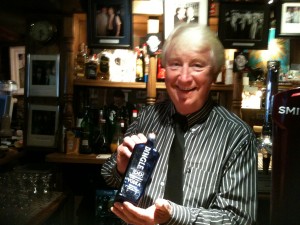 26. And Caroline and Kristin may soon have to broaden the scope of their guide, as – following a long period  when spirits production was monopolised by a small number of multinationals – new distilleries are opening and a whole range of spirits now coming onstream. The Dingle Distillery, for example, now produces some stylishly presented products in relatively small quantity but with mainstream appeal. John Moriarty of Lord Baker's Restaurant (above, with a handsome bottle of  Dingle Vodka) is among the many who are proud to sell their local spirit in the bar and there's a matching Dingle Gin. The first Dingle Whiskey is due for release in 2016 but the headquarters of the parent company (The Porterhouse Group) on Dublin's Nassau Street is now home to The Dingle Whiskey Bar, so the countdown is definitely on.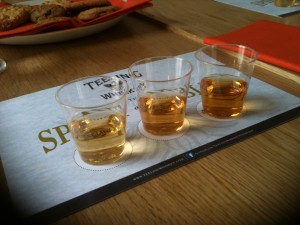 27. The Irish Food Writers' Guild's premium event is the annual Good Food Awards, of course, but we also hosted a couple of  terrific spirits tastings in 2014 – the Teeling Whiskey Company, which is 'Reviving the Spirit of Dublin' with the construction of a new distillery in a city centre location with historic relevance to the family, introduced us to several of their (already highly successful) whiskeys – and to their divine Irish Whiskey Chocolate Truffles…. while boutique producers, Shortcross Gin, of Crossgar, Co Down (also already phenomenally successful, although only launched in April 2014) wowed us with their glorious small production gin flavoured with local botanicals. A taste of things to come.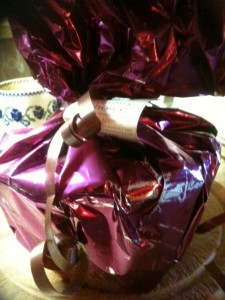 28. What a way to head into the festive season – we all think that our own Christmas Pudding is the best, but Mary Ward of Country Choice, in Nenagh, probably got there first. She makes hundreds (thousands?) of them by hand every year, using nothing but the very best ingredients (a list is included). And they really are deeeelicious….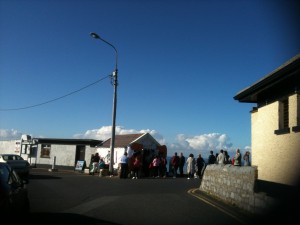 29. A happy thought to round off the year's good memories. Skerries is a magic spot, with such a diversity of places to eat and drink – Terry McCoy's Red Bank Restaurant is known for seafood but it was also way of the posse way back when, before chefs gave a thought to foraging; Joe May's and Stoop Your Head are old favourites, the wonderful  Olive Deli & Café recently doubled in size and is all the better for it. And there are plenty more. A tiny gem that brings many families to Skerries especially is a little stone shed on the pier called Storm in  a Teacup. It's a gorgeous little place selling ice cream and coffees – and you don't have to take my word for it, you can see them queueing up the road for their treats in the photo above. More happy memories in the making.
30. It's tempting to delete the memories of less wonderful experiences when starting into a new year, but a few keep surfacing. Perhaps as a reminder that we need to keep on our toes to make sure that Ireland will give visitors memorable experiences for all the right reasons. There was no contest for the Worst Meal in 2014. It was in the north-west, in an appealing restaurant with lovely views and we really wanted to like it. But, oh dear. Pleasant enough staff, but no customer focus. A soup described by the waitress as 'broccoli and blue cheese' turned out to be cauliflower and (possibly) blue cheese; we got the smell of stale overcooked brassica before it reached the table and the white cauliflower had taken on a horrible pinkish tinge. The bowl sat on a hot base plate, shared with some stale bread and a couple of what had been foil butter packs, now empty as the melted butter spread around the plate. It was a disgusting start to a very poor meal, but the worst thing was that there was no comment from staff as each virtually untouched plate was taken back to the kitchen. Several other tables were occupied and, puzzlingly, most people seemed to be regulars and perfectly happy – which we most certainly were not, and would not willingly return.
Uneven standards at four star hotels proved a recurring problem in 2014. There were two contenders for the worst hotel experience in 2014, both of them four star hotels recently bought out of receivership or Nama. One, in the South, had only recently re-opened after a long closure and, having previously liked it very much, I wanted to leave some feedback. There was no guest comment card in the room so I asked for one at Reception – and was just handed a Compliments slip. The comments were many and varied, so both sides of the slip were closely packed with notes when I handed it back after paying the bill – but I've heard nothing at all since. Disappointing, but perhaps not surprising, as most of the (infrequent) negative comments that we pass on from followers of the Guide are ignored – and the reason that people come to us for help is that their original complaints have not been correctly handled. Time for a rethink on this aspect of Irish hospitality, perhaps. However, Worst Hotel Experience 2014 actually goes to a famous hotel in the West, where I was looking forward to sampling the food of a chef who is well spoken of. Although I had tried to establish that he would be on duty that night, he was actually off, which was a disappointment in itself. But the real problem was much more fundamental – as he obviously understood, having sent me an apologetic email afterwards in which he referred to our 'shambles of a night'. Everything was wrong from the time of arrival and check in; we saw no manager in any department at any point during our stay, and that includes no restaurant manager. The cooking was on the pretentious side of fancy, and the floor staff were young and poorly trained. Meal orders were mismanaged to the extent that I actually saw a dish that had been wrongly delivered to another table taken back to the kitchen,  and then later brought out (cold) for our table. These and many other shortcomings were pointed out after we had paid the bill but, although the chef was decent enough to make a personal apology, we heard nothing from the General Manager, and there was no offer of a refund. (Had we been 'general public' guests, we would have insisted.) We don't have time or money to burn any more than anyone else, and this still annoys me.
Mention of pretentiousness reminds me of our Worst B&B Experience 2014. Astonishingly, this was a 5* Approved establishment and, judging by certificates on the website and placed prominently around the premises, appeared to be the area's most popular place to stay according to an online 'review' site. The host was warm and genial, so it was disappointing to find that the room was cold (with no means of heating it), uncomfortable and very badly lit with harsh lighting in some areas and none in others. The bathroom was a joke. No bath but a very fancy looking shower that we couldn't get to work (quite a common problem).  a couple of unusual features: the soap provided was recycled, ie it was a used piece of soap; have no problem with recycling but I've never seen this before and it looked incongruous laid on a folded face cloth. But the oddest thing was the bath robe hanging on the door, which was frayed to tatters. Why provide a bathrobe at all if it can't be done properly? But the oddest feature was saved for breakfast, when the worst ever bowl of porridge was served without a blush. So solid that it sat up on the plate in a heap, you couldn't have eaten it with a knife and fork and it was a strangely dark too, so it was probably burnt. Bizarre.