The excitement is mounting as Ireland's premier young chef competition – the Euro-Toques Young Chef of the Year – reaches its finale on Sunday 10th November, culminating in a gala dinner at the InterContinental Dublin. Reflecting the rising status of Ireland's food and cooking, eight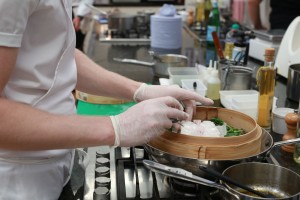 finalists are competing instead of the usual six, due to the exceptionally high standard this year. They are: James Dobson (Potager) mentored by Cathal Leonard; Attila Galambos (Aniar) JP McMahon; Daniel Hannigan (Mr S) Damien Grey; Karan Mittal (Ananda Restaurant) Gavin McDonagh; Grainne Mullins (Lignum) Daniel Africano; Gareth O'Brien (Bastible) Cuan Greene; Matthew Stafford (The Greenhouse) Mickael Viljanen; Alison Tierney (Dax) Graham Neville.
The finalists (of whom Attila Galambos and Matthew Stafford were also finalists last year) have made it through demanding early rounds, including a technical skills test and creating a dish from mystery ingredients. The semi-final judges were Euro-Toques commissioner general Gareth Mullins and Jordan Bailey of Aimsir restaurant, along with London-based Irish chefs Anna Haugh and Shauna Froydenlund – and judges at the final round, to be held at Dublin Cookery School Blackrock on 10th November will include Michel Roux Jnr., Paul Flynn, Margot Janse and Gareth Mullins.
Since it was established in 1990 the Euro-Toques Young Chef of the Year competition presented by La Rousse Foods has been recognised as Ireland's premier culinary competition celebrating Ireland's best emerging talent. Open to professional chefs under the age of 26, the competition seeks "chefs who are capable of demonstrating and communicating Ireland's culinary strength and recognising the importance of our unique produce, traditions and heritage while also brave enough to take risks and create new dishes and flavours."
Whoever wins, it will be a great achievement – joining an impressive gallery of past winners that includes Neven Maguire (1994), Gavin McDonagh (1995), Anna Haugh (2002) and Mark Moriarty (2013) among many other outstanding chefs.