Ireland's most exciting producers were recognised at the Euro-Toques Food Awards 2019 presented by EirGrid at Gooseberry Gardens, Virginia Park Lodge on May 27th.
Introduced by renowned Irish chef Richard Corrigan and food writer & author Caroline Hennessy, five awards were presented under the categories Water, Land, Farm, Dairy and Artisan Produce with six awards presented under the category Craft, which this year recognises smaller growers. This year each winner was presented with a piece of bespoke pottery from Fermoyle Pottery, each piece representing their award category.
This year's award winners are:
WATER: Connemara Seaweed Company, Co Galway
for their diverse range of hand-harvested and sustainably produced seaweed-based products.
LAND: Bumblebee Flower Farm, Co Cork
for their sustainably produced edible flowers, grown in respect of biodiversity.
FARM: Castlemine Farm, Co Roscommon
for their pasture-fed dry-aged beef, lamb and rare breed pork, reared and butchered with a traditional sustainable approach.
DAIRY: The Village Dairy, Cio Carlow
for their locally sourced fresh, organic & Jersey milk, cream and buttermilk
ARTISAN PRODUCE: Ballyminane Mill, Co Wexford
for their stone-ground wholemeal flour, produced in respect of an ancient tradition.
CRAFT: Ballyholey Farm (Donegal); Glensallagh Gardens (Cork); Gorse Farm (Wexford); Iona Farm (Dublin); New Leaf Urban Farmers (Limerick); Garrai Glas Farm (Galway) for growing varietal fruits, herbs and vegetables in an organic, biodynamic or chemical-free way.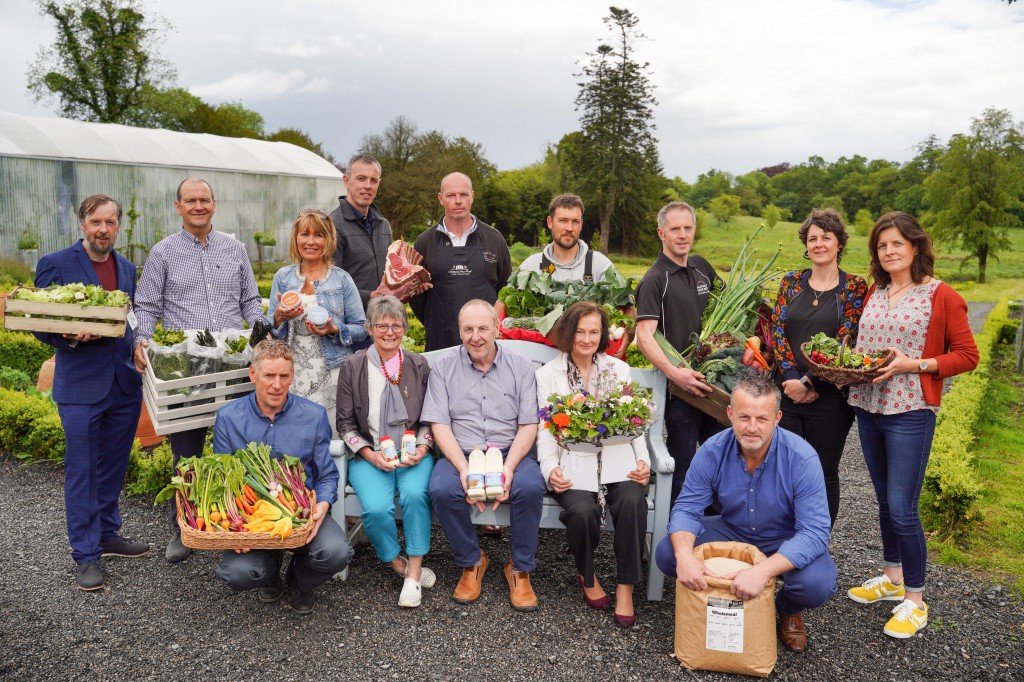 Euro-Toques passionately supports and recognises growers who are doing it right, encompassing a holistic approach to healthy food production, land management and care of the environment as well as allowing chefs to avail of fresh seasonal produce.
The ceremony was followed by a garden feast that brought together over 150 chefs and producers. Encompassing Euro-Toques Ireland's long-term strategy to create a platform where chefs and producers can meet, network and exchange knowledge, the lunch was a celebration of Irish produce including this year's winners and an opportunity for over 50 producers to showcase their products.
This is the tenth year that EirGrid, operator of the national electricity transmission system, is partnering with Euro-Toques. Mark Foley, chief executive of EirGrid, said: "This is the tenth year that we have sponsored these food awards. This enduring partnership reflects the importance of the farming community to the work we do as Ireland's electricity transmission operator. Without the support and cooperation of the farming community, we would not be able to deliver secure and reliable electricity to homes and businesses throughout the country."
"Our awards are always a highlight of Ireland's annual food event calendar with many chefs, writers, and consumers taking note of them in Ireland and further afield," said the Head of the Euro-Toques Ireland Food Council Anthony O'Toole. "As chefs, this is our opportunity to continue what Myrtle Allen started many years ago and celebrate those who grow, farm and produce with integrity and flavour in mind. We are very lucky to have access to exceptionally good, clean and fair food on this fertile island. Our congratulations to all recipients, whom we welcome to the Euro-Toques Ireland community. We will continue to encourage all our fellow chefs to support current and previous winners through their menus."