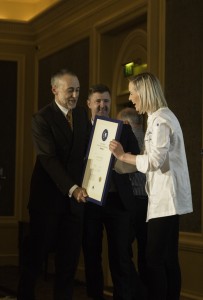 The Euro-Toques Young Chef of the Year competition presented by La Rousse Foods held the contest finals on Sunday November 10th, in the professional kitchens of Dublin Cookery School in Blackrock and – announced at a gala dinner at the Intercontinental Hotel Dublin – this year's winner is Gráinne Mullins, a young Co Galway chef mentored by Daniel Africano, owner-chef of the new destination restaurant Lignum near Loughrea, Co Galway.
Gráinne Mullins won the title Euro-Toques Young Chef of the Year 2019 after a final skills test with a very specific brief for the last eight remaining contestants, who were requested to devise two original dishes — one a starter or dessert using Irish buttermilk and/or Jersey milk and Irish honey, the second a main course using a whole chicken from Regan Organic Farm.
Finalists James Dobson (Potager), Attila Galambos (Aniar), Daniel Hannigan (Mr S.), Karan Mittal (Ananda), Gráinne Mullins (Lignum), Gareth O'Brien (Bastible), Matthew Stafford (The Greenhouse) and Alison Tierney (Dax) each created an imaginative and sophisticated series of dishes for the judges to taste, discuss and score.
At the finals, judges watched the competitors at work, tasted and tested, and made their decision. Euro-Toques Young Chef of the Year finalists were expected to use their creativity and demonstrate their cooking skills, reflecting a modern approach to the preservation of Irish culinary heritage.
To produce their two innovative, interesting and accomplished dishes the young chefs had 2.5 hours of focused cooking and each of them was marked under three separate headings – execution and work practice, taste and flavour, and presentation. With buttermilk and Jersey milk supplied by The Village Dairy, the young chefs were tasked with choosing their own honey, reflecting the Euro-Toques philosophy of local, artisanal and seasonal. The main course chicken came from Regan Organic Farm and the finalists were requested to use as much of the whole bird as possible, focusing on different cuts and techniques.
The four guest judges for the final cook-off were Michel Roux Jn, Margot Janse, Paul Flynn and Gareth Mullins, with Kwanghi Chan running the kitchen. Each of the young chefs worked hard to meet these two challenges, testing all the skills essential in a kitchen from knife skills and palate to creativity, ability to plate, cooking, timing, seasoning, technique and understanding of raw ingredients.
Grainne Mullins of Lignum restaurant impressed the judges with the flair, imagination and skill in execution in a main course of chicken soup, ceaile and offal tartlet and a dessert of carrageen pudding.
The Euro-Toques Young Chef of the Year competition 2019 started in July and guided the young chefs through a culinary journey that culminated with yesterday's final and gala dinner at the Intercontinental Hotel.
The gala dinner featured canapés using Euro-toques Food Award-winning Irish ingredients and courses created by the mentor kitchens of some of the finalists, including starters from Bastible, a fish course created by Aniar, a meat course from Potager in Skerries and desserts from The Greenhouse. Hosted by MCs Domini Kemp and Paul Flynn, guest chef Michel Roux Jnr announced this year's Euro-Toques Young Chef of the Year, calling Gráinne to the stage to receive the trophy.
The Euro-Toques Young Chef of the Year competition presented by La Rousse Foods is Ireland's premier culinary competition celebrating Ireland's best emerging culinary talent. Increasingly focused on education, together with presenting partner La Rousse Foods, Euro-Toques Ireland developed a programme for this year's competition that included workshops, demos, visits to suppliers and culinary activities aimed at mentoring and developing the exciting new Irish culinary talent.
Euro-Toques Young Chef of the Year finalists participated in Food on the Edge 2019 and enjoyed a series of masterclasses and workshops with guest chef judges Anna Haugh and Shauna Froydenlund, chef Kevin Burke, former Head Chef of the Ninth in London and Kevin Thornton. They also enjoyed an immersive day at Aimsir with Jordan and Majken Bailey and an educational trip abroad to Italy.
Speaking at the gala dinner and final announcement in the InterContinental Dublin, Manuela Spinelli, Secretary General of Euro-toques Ireland said, "On behalf of all the Euro-toques Ireland team I would like to congratulate Gráinne on winning Euro-Toques Young Chef of the Year 2019. We have had a fantastic contest full of great flavours and a serious demonstration of skill, and the calibre of our finalists and our winner means the future of Irish food is in excellent hands."
Open to professional chefs under the age of 26, the competition has a proven track record in discovering exceptional young talent, giving all the young chefs who have taken part this contest a unique experience providing recognition throughout Ireland and beyond, and acting as a prestigious stepping-stone in their culinary career.