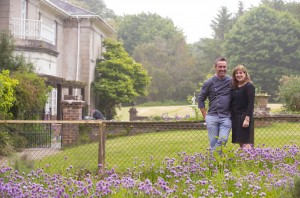 Unprecedented is a word that's being used a lot these days – and with good reason when it comes to coronavirus. We're all in this together and one of the hardest things to get our heads around is that we have no idea when we'll start to see light at the end of the tunnel. Meanwhile, we need to stay positive and help each other, so that we'll be ready to act get things up and running again when the time comes. So, I've been asking key players in food and hospitality about their survival strategies. The responses have been diverse and one of the most interesting was from the celebrated Co Wexford chef, Kevin Dundon, and his wife Catherine, at Dunbrody Country House Hotel at Arthurstown.
Catherine explains that their positive – and very practical – approaches include "lots of Instagram TV and Facebook Live by Kevin with mini demos and recipes each day at 2pm. We're planning to include tips for freezing leftovers and also bulk cooking, so people don't have to cook and clean up every night. This week we are concentrating on comfort foods (but still healthy) and next week we will move to a healthier feel and also include Easter Sunday Lunch with all the trimmings of course. After that we hope the weather will encourage the BBQs to be dusted off and people will be keen to get outside into their gardens or onto their balconies. It would be nice to look at alfresco lunches/picnics for a bit of a feel good factor…"
One of this week's live items is Kevin's Dunbrody Breakfast brown bread and this is the recipe – "When we are open normally, we encourage guests to join us in the kitchen for the morning bake at 6.45!"


Kevin Dundon's Traditional Brown Bread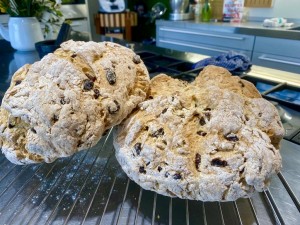 Sometimes I add in some pine nuts, sesame, pumpkin, sunflower, fennel, and caraway seeds for a healthy crunchy finish. Diced dried apricots and sultanas add an unusual finish to the bread also.
12oz/350g wholemeal flour
2oz/50g plain flour
2oz/50g porridge oats
Pinch salt
2 level teaspoon bread soda
2 large eggs
1 dessertspoon of sunflower oil
18floz/500ml buttermilk.


- Preheat the oven to 170C/325F/Gas Mark 3
- Put the flours, sieved bread soda, salt and porridge oats into a large mixing bowl and well them well.
- In a separate bowl beat the eggs together with the oil and add to the dry mixture.
- Next mix in the buttermilk and get the mix to a "sloppy" consistency.
- Pour into a 900g/2lb loaf tin and smooth the top of the bread with a wet spoon.
- Sprinkle some seeds or porridge oats on top of the bread and bake in the oven for 1 hour.
- After the hour has elapsed remove the bread from the tin and return to the oven to bake for a further 20 minutes.
- Remove from the oven and allow the bread to cool down.

Additional Notes:
- 2 tablespoons treacle in the wet mix makes darker, sweeter bread.
- This bread stays fresh for about 4-5 days.
- It can be successfully frozen.
- The mixture can be spooned into muffin tins and baked (approx 25-30 minutes @ 180C)
- Fresh milk mixed with lemon juice or natural yoghurt could also be used.