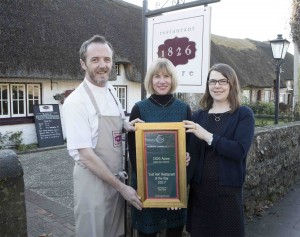 Just Ask encourages diners to look for information on where food on their plate comes from and celebrates chefs and proprietors who highlight their local suppliers on menus and in their bars, restaurants and cafes.beating off tough competition from many top establishments across the country. Now in its eighth year, the Just Ask campaign has been wholeheartedly embraced by the restaurant trade.
Set in what is widely regarded as Ireland's prettiest village, 1826 Adare is a charming cottage restaurant run by husband and wife team Wade and Elaine Murphy, and the fresh, seasonal and local produce that it offers is the foundation of chef Wade's food philosophy. Menus are changed on a monthly basis and blackboard specials such as whole sole, braised beef and slow-cooked pork belly change daily, providing a unique offering to regular guests.
The Bord Bia Just Ask Restaurant of the Year is awarded to one of the monthly award recipients, who stands apart and demonstrates best practice in promoting local produce and showing transparency by informing customers about the sourcing of ingredients, both on restaurant menus and online.
According to a recent Bord Bia study*, Ireland's Foodservice Industry, which is defined as anywhere outside the home that food is consumed, has grown from €6.3 billion in 2014 to €7.5 billion in 2016 and is forecast to grow to over €9 billion by year end 2020. Provenance has evolved from being an area of interest to consumers to one of the key markers of quality and trust, with 55% of consumers saying food sourcing transparency is important when going out to eat. Furthermore, 62% of Irish people believe it's important to support restaurants that use local producers.
Commenting on the growth in the Irish Foodservice Industry, Maureen Gahan of Bord Bia said: "It's encouraging to see that the sector is continuing to grow at an even faster rate than forecasted this time last year. Transparency is now one of the most important characteristics for diners when eating out. We're delighted to see that consumers are increasingly proactive about selecting local restaurants and seeking information about where the produce on the menu originates from. We hope this trend builds year on year to strengthen the foodservice industry even further. Wade and Elaine are doing such a wonderful job with 1826 Adare and are industry leaders when it comes to highlighting their locally sourced produce. We are thrilled to celebrate their hard work with this accolade."
Wade Murphy and his wife Elaine opened their restaurant in Adare
in 2013 and strive to maintain the old world charm and character of the cottage, whilst offering modern Irish cooking, matched with friendly and attentive service. The experience at 1826 Adare is a lovely combination of the traditional and the stylishly modern, where guests can enjoy watching the busy chefs at work in the open-plan kitchen. It is open Wednesday to Friday at 5.30pm, Saturday at 6pm and Sunday at 3pm.
Notes:
*Bord Bia partnered with Technomic Inc. (www.technomic.com) to develop the Irish Foodservice Channel Insights Report. The process undertaken included a large range of in-depth interviews within the trade to reveal insights and an online survey with 1,000 consumers.
For additional information on Just Ask, visit www.bordbia.ie. Further information on 1826 Adare can be found on www.1826adare.ie
To find if any restaurants in your area have been previous winners of the Just Ask Campaign, please visit http://www.bordbia.ie/previouswinners
Suppliers featured (in photography supplied by Liam Burke, Press 22):
·         Cathal Sexton, CS Fish Ltd. (Lobster) – Co. Clare
·         Garrett Landers, Garrett Butchers (Meat) – Co Limerick
·         Sean Duggan, Croom Eggs & Honey – Co Limerick
·         Ronan Byrne, Friendly Farmer (Chicken) – Co Galway
·         Mark Cribbin, Ballyhoura Mountain Mushrooms Ltd. – Co Cork
·         Gavan Walsh, The Little Greens Co. – Co Limerick