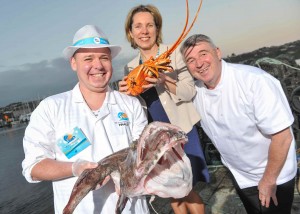 A memorable awards dinner in Martin Shanahans Fishy Fishy restaurant in Kinsale, Co. Cork made a fine setting for Bord Iascaigh Mhara (BIM), the Seafood Development Agency, to announce the results of the BIM Young Fishmonger 2016 competition – and a very happy George Stephens, The Fish Market, Blanchardstown, Dublin was declared the overall winner.
Now in its third year, the competition was tough with his fellow finalists (Peter Shanahan, Fish Seafood Deli, Rosscarbery, Co. Cork; Stephen Fagan, Kish Fish, Coolock, Dublin; Lidia Ulaszek, Dunnes Stores, Knocknacarra, Co. Galway; Eoghan Crowe, Quinlan's, Killarney, Co. Kerry)  all demonstrating high standards throughout the judging process.
BIM's CEO, Tara McCarthy,  explained why this competition appeals to
the public. 'BIM's Young Fishmonger is more than an accolade; it showcases the personality and expertise behind our quality seafood. It tests all of the requisite skills a good fishmonger must possess from product knowledge and customer service to filleting and business acumen, and in doing so it raises the bar across the sector.
George demonstrated and proved exceptional skills across all of these categories and we are looking forward to seeing how he further develops his business in 2016. BIM recognises the importance of encouraging young people to seek careers in this industry and the talented young fishmongers in this competition are a reflection of the passion and drive required to succeed in this competitive retail space'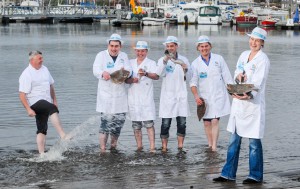 All five finalists were extensively judged over the last two months with mystery shopper visits, judging visits and a practical skills test and business interview in BIM's Seafood Development Centre in Clonakilty on the day of the awards.
George is not only an experienced fishmonger but his culinary background and business acumen has led to an expansion in the business with three retail outlets in Maynooth, Blanchardstown and Mullingar town. A professional chef with eight years seafood retail experience, George knows all there is about preparing and cooking seafood.
Supported by his wife and business partner Anne, George has a real drive and a passion for developing his business further. He is constantly working on new ready to go seafood products and has recently launched a new range of freshly fried fish in his Blanchardstown store, which has proved hugely popular with his customers.
'I am over the moon to win BIM's Young Fishmonger award. I have always been passionate about seafood and I can honestly say I thoroughly enjoy every day in the shop from the early morning delivery of local fish and shellfish to advising customers on how to cook and prepare everything from monkfish to mussels. We have a number of exciting business plans underway to develop new innovative seafood products in-store and the prize fund and the recognition from this award will really boost our business. Thank you to BIM and to my fellow finalists who are all exceptional at what they do.'
George received a specially designed trophy, a study trip to France and a cheque for €1,000. All four finalists received a trophy, a place on BIM's retail development workshop, a set of professional knives and a cheque for €500. In advance of the awards, all the finalists were treated to a masterclass in seafood cookery from Martin Shanahan in his own kitchen in Fishy Fishy.