If it's November it must be competition time for our most promising young chefs – and, these days, for young fishmongers too!
To begin at the beginning, the Euro-Toques Young Chef of the Year is the grandmother of all of the very important competitions that encourage and foster young talent in the Irish food world. Now in its 28th year, it has marked a turning point for some of Ireland's most famous chefs, including Neven Maguire, Gearoid Lynch and, more recently, Mark Moriarty who was Euro-Toques Young Chef of the Year in 2013 – and went on to unprecedented international success, when he won the title of San Pellegrino World Young Chef 2015 champion earlier this year. These and others like them are brilliant role models for talented younger chefs – much needed inspiration at a time when the national chef shortage is at crisis point.
Each competitor is mentored by a member of Euro-Toques Ireland (www.euro-toques.ie), and the theme that they must develop to wow the judges at the final is 'Origins of Contemporary Irish Cooking'. True to the principle of Euro-Toques, Irish provenance must be central to their creations, and the judges include the highly successful Northern Irish chef Clare Smyth MBE, chef patron at Restaurant Gordon Ramsay; daunting, perhaps, but an inspiration if ever there was one – and especially appropriate perhaps, as 2016 will be the Northern Ireland Year of Food.
The recently announced five finalists who will battle it out for this year's title are:John Fitzmaurice, 26 (Head Chef at Moloughney's, Clontarf, Dublin 3, mentored by Liam Moloughney); Ruth Lappin, 22 (Chef de Partie at Restaurant Patrick Guilband, Dublin 2, mentored by Head Chef Kieran Glennon); Conor Halpenny, 20 (Chef de Partie, Brabazon Restaurant at Tankardstown House, Co Meath, mentored by Head Chef Robbie Krawczyk); Robert Browne, 21 (currently a medical student in National University of Ireland, Galway and mentored by Enda McEvoy, Chef-Patron Loam Restaurant, Galway) and Roseanne Meehan, 24 (Junior Sous Chef, Knockranny House Hotel, Westport, mentored by Head Chef Seamus Commons).
The three-month long competition will culminate in a final cook-out at Dublin's Cooks Academy on Sunday November 29th, so watch this space…!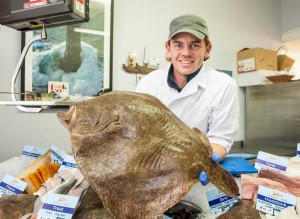 BUT WHAT ARE CHEFS, WITHOUT THE BEST INGREDIENTS? So, turn the spotlight south, to Co Cork, and you'll find there's something fishy going on down in Kinsale, where another five talented young people are competing for the Title of BIM Young Fishmonger, 2016.
This great competition is in its third year and as Donal Buckley, BIM's Business Development & Innovation Director, explains, 'This programme directly recognises young talented fishmongers who have a clear passion for seafood. They represent a bright future for the business which, after a difficult few years, has seen a recovery with total seafood sales increasing by 5% this year. It is encouraging to see that our finalists not only possess the necessary technical skills and product knowledge, but they all have the requisite drive and passion to expand and develop their business."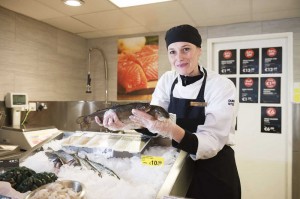 And this year's finalists are:
Peter Shanahan, Fish Seafood Deli, Rosscarbery, Co. Cork
George Stephens, The Fish Market, Blanchardstown, Dublin
Stephen Fagan, Kish Fish, Coolock, Dublin
Lidia Ulaszek, Dunnes Stores, Knocknacarra, Co. Galway
Eoghan Crowe, Quinlan's, Killarney, Co. Kerry
As part of the three-round competition the finalists are lucky enough to get  a master class in seafood cookery from the popular seafood chef and TV personality, Martin Shanahan (no better man), and – equally importantly – they are tested on their business insight and practical skills, in BIM's Seafood Development Centre, at Clonakilty. This includes filleting and preparing a range of fish and shellfish under time constraints, as well as discussing their future business plans. The competition culminates in style with an evening event in Martin Shanahan's restaurant Fishy Fishy in Kinsale, where the winner will be announced on Wednesday 11th November…[For further information, visit www.bim.ie]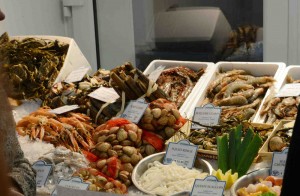 And, not to be outdone the East Coast has also been the scene of some interesting goings-on this autumn – not a serious competition in this case, but something equally educational and great fun, in the shape of Dorans 'Pot to Pot Challenge' and a follow-up event, Dorans 'Old Salts and Grumpy Chefs'.
A new initiative, the Pot to Pot challenge was supported by the North East Fisheries Local Action Group or FLAG, which is part of the BIM Fisheries Local Area Development Scheme that provides grant aid towards the sustainable development of fishery dependent areas. 'Pot to Pot' paired five of Dublin's best known chefs with five skippers and aqua-culturists. The simple idea was for participants to have an 'exchange of knowledge', each giving their side of the businesses where the end product is locally sourced shellfish that is served in the best restaurants in the capital.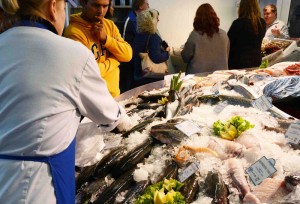 It was a great day out that gave chefs an insight into what happens to fish before it arrives into their kitchens, and it began with a visit to the trawlers where skippers Ted Dixon, Richard Brannagan and Andrew Markey explained their catching methods and issues such as weather, tides and quotas. There was also information on the current developments in conservation methods, such as net mesh sizes, which has largely been driven by the fishing industry itself.
Scallop processor Harold Henning from Kilkeel and Cian Louet-Feisser from Carlingford Oysters gave the story of the life cycle of scallops, mussels and oysters and explained the growing and cultivation methods, and chefs' questions gave seafood producers the opportunity to demonstrate the knowledge gained from years of experience.
Then it was over to the chefs. It started with Marco Guidaci from Octopussys Tapas Bar, who was paired with prawn fisherman Andrew Markey cooking prawns with tagliatelli accompanied by with a sauce created from prawn shell stock for an authentic flavour. While Andrew explained more about the habitat and the optimum way to fish for prawns, Marco cooked 'the perfect Dublin Bay Prawn dish'.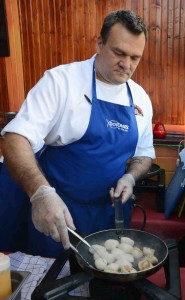 Next up was John Fitzmorris from Moloughneys who was paired with Ted Dixon, a lobster fisherman from Howth who proved well able to demonstrate his own cookery skills during the demonstration. There was also an in-depth discussion regarding the most humane methods of cooking lobsters. The dish that was created was a triumph, with Ross Golden-Bannon (who was invited for the day to give his feedback and expertise on the dishes produced by the chefs) complimenting both on the depth and delicacy of the flavour of their dish.
Next up was Siobhan McDonagh, from the Brass Monkey, and Harold Henning, who explained the processes – and the time, care and attention -in bringing scallops to maturity. Having panfried their scallops, topped them with a handmade butter containing hazelnuts, herbs and spices and then grilled them lightly, Siobhan served them with a root vegetable purée and 'prosciutto specially pressed and dried until crispy'…
Oysters are normally served au-natural but Oar House resident chef Laurent Creusevaut's cooked oysters were delicately fried in a light saffron tempura, creating what Ross Bannon Golden described as 'the perfect entry level oyster dish for those reluctant to try them fresh'.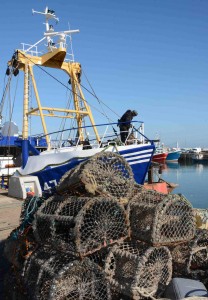 Finally John O'Connell from Aqua, who was paired with prawn trawler fisherman Richard Brannagan, kept it simple by cooking garlic prawns with a light aioli dip – proving once again that seafood really needs little more than simplicity to be perfect, it's a great dish to try at home.
A post-prandial slide show shared more information about fishing methods and explained why tides are such a factor on the East Coast of Ireland – and also touched on a relatively new issue that chefs and restaurateurs have to be mindful of, in the shape of Trip Advisor and other social media sites where every customer now has the potential to become a critic.
The day's 'pièce de resistance' was the seafood platters served up by Chef Anne Marie Mooney and the crew of the Oar House, which attracted much praise, and, equally importantly, the day showed how two ends of the same industry can be brought together so knowledge can be shared and issues discussed and overcome. This was the first day of its type and the goal 'to foster a deeper understanding between the two groups' was achieved in style  – so it was unlikely to be the last. …
…And so it proved as, just a few weeks later, Dorans were at it again, with their '1 day spectacular' Old Salts & Grumpy Chefs, to celebrate all things seafood. This time the guest list focused on the media, and once again there was a lot of learning done. Lunch, prepared by Chef Laraunt Creusevaut and his team at the Oar House was served with wines carefully chosen to complement the seafood – and a great time was had by all.