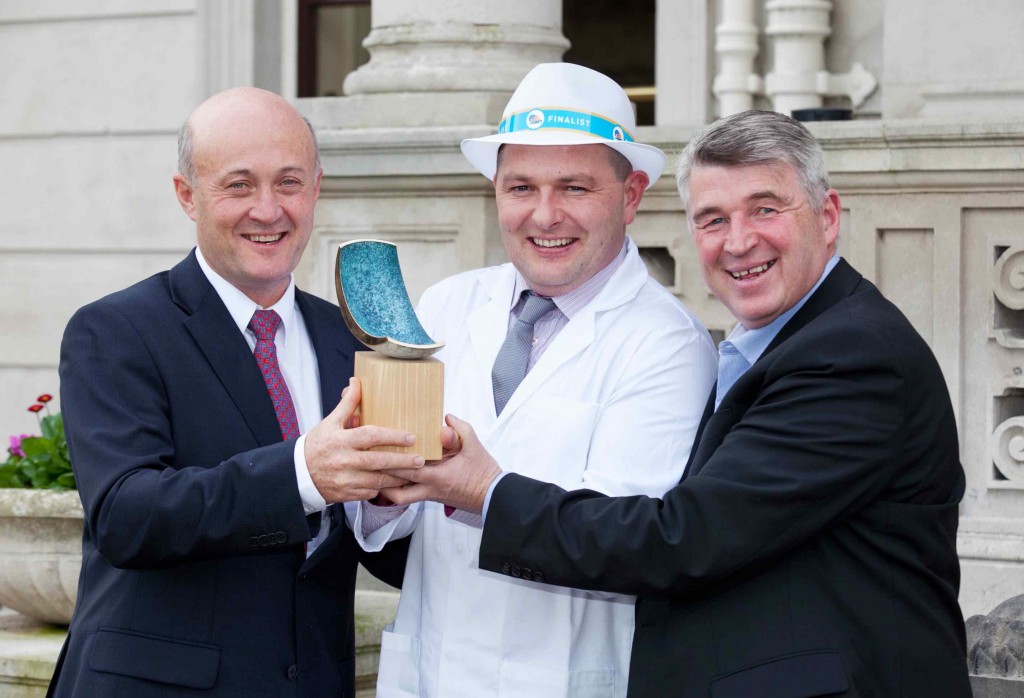 Two very  interesting competitions – the BIM Young Fishmonger and the Euro-Toques Young Chef of the Year – have recently reached their respective finales, each following different but equally rigorous judging processes that involve contestants 'in the round', testing them not only for exceptional proficiency in key practical skills but also their knowledge of their chosen industry, the level of commitment to their work and their plans for the future.
Winning either competition can have dramatic effects on future career paths and, while there can only be one winner, involvement in the entire procedure right through to the final is enormously beneficial to all of the most promising young contestants
In the case of Euro-Toques, a unique aspect of the competition is to select a young chef who can not only cook like a dream but also be an ambassador for Ireland – and, especially, Irish food and cooking – when taking up a position in a top kitchen abroad as part of the top prize. The Euro-Toques philosophy of protecting culinary heritage, supporting local producers of quality foods and promoting seasonality is a noble one, and even more urgently relevant now than it was in 1986 when the association was founded by the legendary Belgian chef, Pierre Romeyer, who selected a number of like minded chefs from other European countries to assist – including Myrtle Allen, who established Euro-Toques Ireland in the same year. It now has about 180 members whose activities include lobbying for the protection of quality food, running their annual Food Awards and the Young Chef competition, which is now in its 24th year.
The young fishmongers also have to demonstrate a real understanding of quality food, especially as it relates to fish and seafood, and many of them have hands on experience when it comes to provenance, as they may have close family connections with the fishing  industry. Business ability and ambition is important in this competition, and it could also be said that fishmongers face something of an ambassadorial challenge on a daily basis in their daily interface with customers, who may well include visitors from abroad along with would-be cooks in search of advice as well as the best and freshest ingredients for their dinner. While the Young Fishmonger of the Year competition is only in its second year, BIM have brought experience in assisting and promoting quality in the seafood industry over many years, and that expertise can be seen in the inspiring enthusiasm with which the young contestant have responded to this focused and thorough competition.
The competition was developed by BIM to recognise and reward young fishmongers with a view to encouraging new entrants into the business and to ultimately raise the bar across the sector. Gerard's prize includes a study trip to France, a cheque for €1,000 and along with the other finalists he will benefit from a free placement on BIM's retail development workshops, a set of professional knives and a specially designed trophy. As part of their prize, all of the finalists have already enjoyed an inspiring masterclass in seafood cookery with Martin Shanahan.
RESULTS:
The BIM Young Fishmonger 2015 is Gerard Collier of Fisherman's Catch, Clogherhead, Co. Louth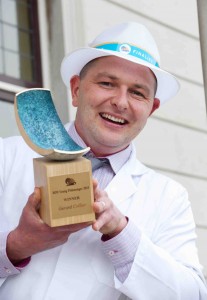 Gerard was selected as winner from a shortlist of five finalists, all of whom demonstrated to the judges an exceptional high standard in technical expertise, product knowledge and customer service. Martin Shanahan, owner of Fishy Fishy Café & Restaurant, author and TV broadcaster presented the awards and commended all five finalists on their passion for the seafood business. [Image on right: Gerard Collier. The top image shows Gerard enjoying his handsome trophy with Donal Buckley, BIM's Business Development & Innovation Director, and Martin Shanahan.]
The other finalists in BIM's Young Fishmonger 2015 competition were:
Stevie Connolly, Connolly's Seafood, Rathmines, Dublin 6
Neil Turner, Caviston's Food Emporium, Glasthule, Co. Dublin
Mateusz Kowalik, Doran's on the Pier, Howth, Co. Dublin
Gary Quinn, Stephen's Fish Market, Mullingar, Co. Westmeath
Follow BIM's social media pages via www.bim.ie or click on the links below to hear more about the finalists.
twitter.com@BordIascMhara
www.facebook.com/BordIascaighMhara
www.linkedin.com/company/irish-sea-fisheries-board \
The 24th annual Euro-Toques Young Chef of the Year is 22 year old Matthew Logan, who is a Chef de Partie at Chapter One Restaurant. The prize includes an expenses paid stage at The Square, London, where he will work under the direction of two star Michelin chef Philip Howard, who was this year's special guest judge.
The other four finalists were:
Luke Ahearne, aged 22, Chef de Partie at Campagne, Co. Kilkenny 
John Fitzmaurice, aged 25, Sous Chef at the Mustard Seed, Co. Limerick
Chris Fullam, aged 21, 3rd year Culinary Arts student at DIT, Cathal Brugha Street
Ian McHale, aged 26, Senior Chef de Partie at Chapter One restaurant
The competition has been supported by Fáilte Ireland for the last three years as part of the national tourism development agency's strategy to develop and promote culinary talent in Ireland.
For more information on the Euro-toques Young Chef of the Year visit www.youngchef.ie <http://www.youngchef.ie/>
Watch the video here: http://youtu.be/_RIu6etkS-8 <http://youtu.be/_RIu6etkS-8> or watch exclusive behind the scenes footage of the five finalists in action here: http://youtu.be/vG154HYYIh0 <http://youtu.be/vG154HYYIh0>