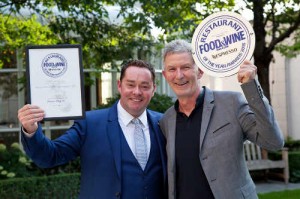 Georgina Campbell
Congratulations to all the winners in the recent Food&Wine Magazine Restaurant of the Year Awards 2015, held at Dublin's Intercontinental (former Four Seasons) Hotel in Ballsbridge.
Top awards went to Thornton's Restaurant (FOOD&WINE Magazine Restaurant of the Year Award 2015) and Stephen Toman from Ox, Belfast, (FOOD&WINE Magazine Chef of the Year 2015).
A new Special Recognition award went to 23 year old Mark Moriarty (World's Best Young Chef, following his success at the San Pellegrino Young Chef 2015 competition in June); with his winning dish, Celeriac Baked in Barley and Fermented Hay, Cured and Smoked Celeriac and Toasted Hay Tea, he wanted "to capture the essence of Ireland and present humble, locally sourced ingredients like celeriac and barley in a unique way".
The 2015 Hall of Fame awards went this year to Neven Maguire, who was recognised for his approachable on screen manner and obvious passion for food – and (a complete surprise to her, and of special interest to us) also to fellow Irish Food Writers' Guild member, Biddy White Lennon.
Well-known as a judge on The Great Irish Bake Off, Biddy was recognised for her promotion of food since the mid-80's through writing recipes, working with large food groups and penning numerous books on Irish food and its history. She is also, of course, a founding member of the Irish Food Writers' Guild and very involved with Slow Food Ireland, especially the Wicklow-based branch, the Slowfood Sugarloaf Club, and the Wild & Slow Food Fair a Macreddin.
At the event, Evan Doyle – with whom she wrote her most recent book, Wild Food – went 'off script' from the official citation, in which the reasons for Biddy's award were many and various. For the full lowdown including Evan's off-the-record story that gets to the heart of it, go to the Irish Food Writers' Guild website