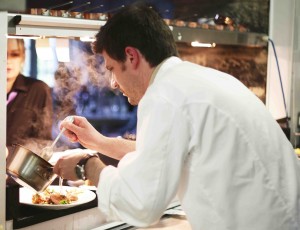 According to the results of a Bord Bia Just Ask! Survey conducted in July:
over 95% of Ireland's leading restaurateurs have increased the amount of local suppliers they work with in the last 12 months
85% spend in excess of 40% of their monthly budgets on local food and drink
leading Irish restaurants actively promote local supplier details to their customers
Bord Bia conducted a survey in July 2015 amongst previous recipients of the Bord Bia Just Ask! Monthly Award, a campaign that aims to encourage diners to look for information on where the food on their plate comes from when eating out and inspire chefs to provide such information on their menus. Over 95% of respondents confirmed that they have increased the amount of local suppliers that they are working with within the past 12 months, with 85% of respondents spending in excess of 40% of their monthly budget on local food and drink.
Restaurants are increasingly using a combination of activities to promote their support of local suppliers to their customers.  From name-checking suppliers on menus and websites; to including supplier photos in their restaurants, to spreading the word via social media and arranging 'meet the maker' events; restaurateurs have recognised the merit in showcasing their support of local producers and the resulting bottom line effect on their business.
Other key survey findings include:
• Over 4/5 of restaurants (81%) are actively involved in growing their own produce and foraging, with the remaining 19% confirming that 'it is something I'm currently considering for my business'
• The majority of restaurant owners (81%) believe the public has become more aware of the importance of sourcing locally in the past year, with 85% of respondents agreeing that diners actively look to support restaurants that are in turn supporting their local suppliers
• 2/3 of restaurants (67%) claim that there has been an increase in numbers of diners eating out during the week in the past six months, with over 70% confirming that they have seen an increase in diners eating out at the weekends during this same period
• 71% of respondents recognise that social media plays a key role in engaging with both customers and suppliers
• The Top 5 factors contributing to recipe inspiration (where Chefs were invited to select a number of factors) were: Ingredients (90%); Travel & Culture (57%); Other Chefs (53%); Nostalgia (43%) and Trends (29%)
Commenting on the results, Maureen Gahan of Bord Bia said, "Once again, I would like to congratulate each and every Just Ask! award winner for the fantastic work they are doing in terms of supporting local suppliers and using innovative ways to communicate this support to their customers.  It's very positive that so many restaurant owners feel the public are becoming more aware of the importance of sourcing local ingredients and are voting with their feet when it comes to eating out. Remember – if the menu you're looking at doesn't specify where the food on your plate comes from, then Just Ask!"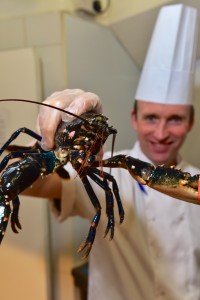 According to Stephen Lenahan of Belleek Castle in Mayo, "We name all of our suppliers on our menus and encourage other restaurants in the area to source locally also.  We continue to expand our home-grown product and this year we have developed our outside garden to complement our poly tunnel.  We feel it's important for consumers to understand about where their food comes from and have organised recent foraging events in Belleek Woods and on our local sea shore".
Tom O'Connell of O'Connells Restaurant in Donnybrook, Dublin 4 has been a consistent supporter of local producers since he opened his first restaurant in 1999.  In 2014 he introduced a Small Irish Food Producers Counter within his restaurant, allowing customers to directly purchase products from the suppliers that are referenced on the menu.
'Meet the Maker' and Food Tourism activities are becoming increasingly popular also, with Aran McMahon of Café Rua in Castlebar, Co Mayo and Kay Harte of Farmgate Café in Cork just two of a number of previous Just Ask! award winners that regularly invite producers to meet directly with their customers.  In addition, Head Chef Rob Krawczyk of Tankardstown House in Meath has introduced a 'Friday Night Project', rotating his menu on a weekly basis to champion individual local suppliers.
Now in its sixth year, the Bord Bia Just Ask campaign has been wholeheartedly embraced by the restaurant trade. Selected by food writer Georgina Campbell and Bord Bia, the Just Ask! Restaurant of the Month rewards eateries across Ireland that have committed to showing transparency in the sourcing of the food on their menus.
"It's really encouraging to see so many restauranteurs leading the way in sourcing local produce, and indeed in many cases starting to grow and forage themselves! The Just Ask! Award celebrates these pioneering businesses who are at the forefront of producing exceptional food and first class customer service," stated Georgina Campbell.