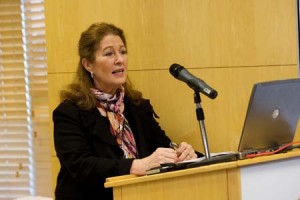 Cream Rises to the Top Again – Vision and Leadership Recognised by Independent Hospitality Guide
Meet the leaders at the Georgina Campbell Awards – announced Wednesday 30th September
All Award Winners are listed on this page

Representatives of the very best in Irish hospitality gathered at Bord Bia in Dublin today, for the announcement of the 2016 Georgina Campbell Awards, associated with the respected Georgina Campbell's Ireland independent hospitality guides, and Ireland's most popular independent hospitality and travel website www.ireland-guide.com. These are Ireland's longest-running food and hospitality awards, and highly respected by the industry.
Every year Georgina Campbell and her team of experienced assessors comb the country's hotels, country houses, guesthouses, restaurants, pubs, cafés and speciality food shops seeking out the best food and hospitality experiences for readers of The Guide ('the glovebox bible') and followers of the very successful website, www.ireland-guide.com. Speaking about the ongoing search for excellence, Ms Campbell said,  "Our programme of anonymous assessment visits has continued throughout the season as usual, always keeping a sharp eye out for those exceptional establishments which are right on top of their game and going the extra mile for customers.
Once again this year, we have found plenty of new ones worthy of recommendation, especially in urban areas, and it is always exciting to see newcomers to the hospitality industry who understand the importance of standards and want visitors – domestic and from abroad – to enjoy Irish food and hospitality at its best. We are not seeking perfection but hospitality with real heart, and we're finding it in clusters of excellence all over the country.
Commenting on the Awards, Georgina Campbell said, "We've had some especially good experiences in Northern Ireland again this year, and in areas like The Burren, Connemara and the North-West, where communities work together to promote quality and bring different elements of hospitality together, through food trails for example. Excitingly, also, a number of top food professionals and associations, including the TASTE Council of Ireland, are showing vision and leadership in working towards the development of Ireland as a 'food tourism' destination, something which we are pleased to support through recognition in our Awards – alongside others who have demonstrated vision and leadership in other ways, in some vases dating back many years."
Of the 2015 season, Georgina Campbell said, "With business well up almost everywhere this year, the soggy summer doesn't seem to have dampened spirits at all and some owners are cheerfully reporting business back to pre-recession levels. Improved access through Shannon and strong promotion of The Wild Atlantic Way has brought a lot of extra visitors to the West, although too many of them are just passing through and many establishments mention 'nuisance traffic' (low budget coach tours, stopping only briefly at major attractions) rather than extra business.
There is growing activity on islands, especially the Aran Islands, where the new slogan One Day Is Not Enough is gathering momentum, and a new young and enthusiastic generation – aware of the opportunity and the difficulty attached to living and working on an island – is making its mark, starting new businesses and reviving established ones. As usual, the western counties are well represented in our Awards -  they work hard to attract (and keep) visitors, and that is reflected in the high standards and special experiences they offer.
Most parts of the country are seeing plenty of new openings – most often in the dining pubs or bistro/brasserie categories, and also tea rooms and café/bakeries, and this continuing trend towards informal dining is reflected in our Awards – but, despite frequent warnings of its imminent demise, fine dining is also thriving. Outstanding examples we have enjoyed this year include 'fine dining without the fuss', ie meals where the cooking has real finesse but the service style is quite relaxed, and also some really excellent traditional fine dining."
On food trends, Georgina Campbell said, "There are so many diverse influences at work at the moment that it is hard to see where the main focus lies. Asian cuisines, including Japanese, are strong for example, but Northern European influences are still very much with us (natural seasonal foods, pickles, fermented foods…) and plenty of others too, including the cuisines of Spain and South America.
Stunningly artistic creativity still characterises the work of some top chefs yet, conversely, assessors comment on the confusion of flavours on too many plates and many diners would like to see simpler, more direct styles. Some good Spanish restaurants have opened this year and are doing well, but tapas style menus in general are now tending to be diluted, with 'small plates' often translating as 'starters' and scaled up as 'sharing plates' – which are likely to stick as they make a sociable start to a meal – while 'big plates' on many 'tapas' menus are simply full size main courses. Street food is gaining momentum with quite diverse food trucks offering some real quality, but the burger boom has swamped mid-range menus and maybe it's time to move on."
On the foods coming into favour, Georgina Campbell said, "It is good that chefs are taking vegetables more seriously, although the artistically commendable offering on the plate may bear very little resemblance (in appearance or flavour) to the carefully grown and often organic product that entered the kitchen. Foraging remains a big interest both for chefs and the public, and one of our most prolific renewable resources – sea vegetables – remains a very hot topic, and growing. Fish and seafood are very strong, with a number of high profile seafood restaurants opening this year, notably in Dublin, and shellfish like lobster and oysters, once unaffordable luxuries for most, are featuring strongly on mid-market menus. On the meat front, Himalayan salt aged beef, from specialist suppliers in Northern Ireland, is wowing many chefs, and 'Rosé Veal' a humane alternative to traditional white veal that is currently produced mainly in the South-East, is beginning to make its mark. More unusually, buffalo meat continues to be a niche, but growing, interest – as is one of our most neglected foods, goat meat, which is now available from several suppliers. Mutton, which is enjoying renewed popularity in Britain, must surely be poised for a comeback here too; while the currently fashionable slow cooking method is not always applied to the most suitable meats, it would suit mutton very well."
Connecting local Irish suppliers, restaurant kitchens and, ultimately, the customer continues to be a strong trend. Bord Bia's very successful "Just Ask!" initiative encourages diners to ask about provenance of food on menus if it is not provided, and BIM, jointly with Failte Ireland, has recently launched a West Coast seafood trail, 'Taste the Atlantic – a Seafood Journey', which links a number of Wild Atlantic Way seafood restaurants and their suppliers in a visitor-friendly way. Chefs are increasingly proud to champion local producers on their menus, and waiting staff are also becoming more accustomed to explaining provenance to customers.
However, poor service (including wine service and 'poor attitude') continues to be an issue in too many establishments of all types and, this year, very disappointing experiences in owner-run establishments when the proprietors were away have underlined yet again the need to understand the value of investing in staff training. Equally worrying is the number of poor meals we have experienced this year, even in previously reliable establishments. Standards are very variable, which may be at least partly due to the current chef shortage, which is now an ongoing crisis.
Some apprenticeship schemes have been initiated, in some cases by individual chefs, and such admirable enterprises should be encouraged but, on a larger scale, we support the Restaurants Association of Ireland's call for government measures to tackle the skills deficit, including the re-establishment of the former state tourism training agency, CERT."
Trends in the accommodation sector are always interesting: "A number of five star hotels are engaged in multi-million euro refurbishment programmes, something which is seen as essential if we are to compete with the best in the world. However, there are still many establishments that have now been short on maintenance and routine refurbishment for a number of years – mainly smaller owner-run properties in seasonal areas that haven't yet seen much benefit from the upturn – and a new problem is emerging, as prices are rising again but customers are always not seeing a corresponding increase in standards.Not that poor value for money is restricted to any particular category.
Again this year, some of our worst experiences have been in four and five star hotels – something to think about for management in those hotels currently benefitting from major investment, as sumptuous premises will fail to impress unless the standard of food, staff and service matches the surroundings.
Other problem areas include the continuing issue of unregistered accommodation, with an ever-growing number of established businesses opting to de-register from the Failte Ireland Approval scheme to reduce their cost base. As we have said any times before, a simple and inexpensive system of mandatory registration is needed, perhaps independent of Failte Ireland."
Unlike other predictable, commercially-led awards, the Georgina Campbell Awards always include some unexpected choices and out of the way surprises – and, said Ms Campbell, "Importantly, these awards are more than the sum of their parts as each selection is not just an accolade but illustrates a key point, so the collection as a whole gives a valuable snapshot of the best of Irish hospitality today, demonstrating its strengths and showing how good food and hospitality can lead the way forward to a better future for all. In this connection, the Guide calls on the Government to retain the current VAT rates in the forthcoming budget in order to help this important sector to continue its recovery."
Top award winners on the day included: Kevin Sheridan & Evan Doyle, TASTE Council of Ireland, and Jp McMahon, EatGalway & foodontheedge.ie
(Georgina Campbell Award, for special contribution to Irish food & hospitality); Gregans Castle Hotel, Ballyvaughan, Co Clare (Hotel of the Year); James St. South, Belfast (Restaurant of the Year); Dylan McGrath, Taste at Rustic, Dublin (Chef of the Year), and MacCarthy's Bar, Castletownbere, Co Cork (Pub of the Year).
Ireland's longest-running hospitality accolades, the Georgina Campbell Awards are completely independent. Unlike most other award schemes, they are not commercially driven and in no way affiliated with trade associations or marketing groups; there is no charge to establishments for recommendation or any element of the awards process. It is this independence which has earned them special respect in the industry, and public trust. Accolades from a respected independent guide are not only a source of encouragement – and very good for winners' business – but also set a benchmark for others in the industry who are determined to achieve a similar level of excellence.
Although most closely associated with good food, the Guide's accommodation recommendations are equally respected; as outlined above, it should be noted that the Guide does not promote unregistered accommodation. All Northern Ireland accommodation is registered and therefore suitable for consideration but, in the Republic, only registered (Failte Ireland Approved) accommodation is considered.
Georgina Campbell Guides are grateful to Bord Bia, sponsors of the "Just Ask!" Restaurant of the Year Award, who kindly hosted the event
All Awards are listed on this page