We are privileged to experience the best that Ireland has to offer when we eat, stay and shop our way around the country each year, and there are always a few extra special experiences that linger in the memory long afterwards. Sadly, some have since closed – the wonderful O'Brien Chop House in Lismore Co Waterford is much missed for example, and there are other fine rural restaurants on the brink, and desperately in need of support from their local communities. However, many are thriving and there is plenty of quality to be found – and these (in random order except, perhaps, for the first) are some of the most memorable dining experiences from our travels in 2012.
1. Restaurant Patrick Guilbaud, Dublin. EAST
While the current trend in dining is unarguably towards robust cooking and informality,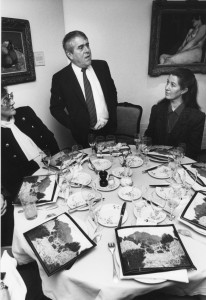 fine dining is alive and well – and getting better than ever – especially in Dublin, where we have recently enjoyed superb meals at many of the leading restaurants including Chapter One, Thorntons, L'Ecrivain and newcomer The GreenHouse – all true pros who never fail to surprise and delight customers in their endless quest for perfection. But the most memorable fine dining experience of 2012 has to be the 30th anniversary celebration at Restaurant Patrick Guilbaud in May, where Patrick himself, together with Stéphane Robin, Guillaume Lebrun and their talented team demonstrated yet again why there is nowhere to beat this beautiful restaurant. Since the day of opening in the original custom-built restaurant in Jameses Place, RPG has not only set the benchmark for fine dining in Ireland but, through their commitment from the outset to using local produce 'that reflects the perfection of origin and season', they also raised the bar for Irish producers. Thanks to the finesse of this great kitchen, the dishes created with these carefully selected ingredients never fail to match up to their stated aim of 'taste perfection' – and, while the attention to detail is exceptional, it is real food. Front of house everything invariably runs like clockwork too, and their anniversary dinner was a reminder of this classic restaurant's special place in Irish hospitality: simply superb. [Image - Roux Scholarship lunch at the original Restaurant Patrick Guilbaud, c 1985; I sat under the same painting at this year's 30th anniversary dinner!]
2. Boat House Bistro Bangor Co Down NORTH
When that great chef Robbie Millar died in 2005 he left a huge gap in Northern Irish

hospitality, and especially in north Co Down. The Blackwood Golf Club premises that he made such a magnet for foodies has changed hands several times since then, yet never thrived – but, nearby in Bangor, in a charming little stone building beside the marina, the talented and convivial Dutch brothers, chef Joery and front of house manager, Jasper Castel have since 2008 quietly been building up a reputation that is worthy of the area's much-missed master. There are no big windows to entice customers in, and very little about the exterior to suggest the warmth and style that reveals itself as soon as you get up the granite steps and through the front door, so first-time guests are in for a very pleasant surprise – and they will find some of the best food in Northern Ireland here, served in a relaxed, customer-focused atmosphere. A late season visit in 2012 was a reminder of just how good this little restaurant is. Menus with a strongly seasonal bias reflect Joery Castel's upbringing in Holland and his respect for fresh locally sourced produce, especially seafood. While stylish (this is a man who has cooked for the Queen after all, when she visited Armagh in 2008), Joery's cooking is not 'cheffy' – the emphasis is on great flavour and appealing combinations of colour and texture and, far from being overawed by the experience, you'll come away from a meal here as we did once again – licking your lips and wondering how soon you can get back.
3. The Global Village Dingle Co Kerry SOUTH-WEST
It's really a big compliment to Dingle that we took so long to get to Martin Bealin and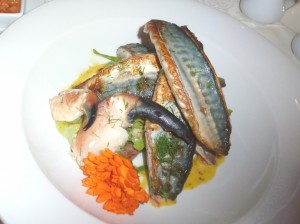 Nuala Cassidy's long-established restaurant The Global Village – there are loads of good eating places to choose from, including old favourites like The Chart House, Out of the Blue and The Lord Baker's, which never fail to delight and we love returning to – but we nearly missed the boat again this year, due to this otherwise impressive restaurant's eccentric phone/reservations system. But boy, were we glad we persevered. Their true passion for the locality and its food is immediately obvious, both on a blackboard – proclaiming the daily specials, notably local fish and seafood but, unusually, also naming the day's beef and lamb suppliers and the vegetables harvested from their own bio-dynamic garden out at Ventry – and on the menu, with its extensive sourcing list. Martin Bealin's cooking style is creative modern classic and the execution is dead on – what's not to like? Everything – the local provenance and seasonality, the cooking, the balance of flavours, the pride in service – works together at The Global Village to make a memorable experience. One not to be missed again.
4. Newport House, Newport, Co Mayo NORTH-WEST
Nearby Westport is always in the spotlight these days – and it is well deserved – but, quietly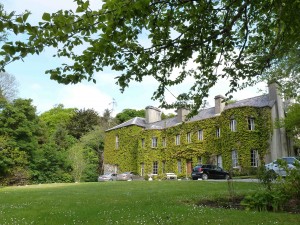 doing their own thing in this beautiful old creeper-clad riverside house, Kieran Thompson and a long-serving team of wonderful staff can provide plenty of reasons to opt for the little town of Newport. Newport House has long been a favourite destination for us, and one of the reasons is the quiet man in the kitchen, John Gavin. An unsung hero of Irish food, John has been head chef since 1983 and Escoffier's great advice 'Faites simple' – so often unheeded these days – could have been coined with this ingredients-led, customer-focused chef in mind. There are not many restaurants that you could happily eat in every night, but that's just what Kieran Thompson does at Newport House and it speaks volumes for John's cooking. In 2012, as always, we were delighted with the choices on the 5-course menu (notably fish, both freshwater and a variety of sea fish from Achill, and the wild house smoked salmon), and perfect cooking that allowed the beautiful ingredients to taste of themselves. The charming simplicity of the house salad – the freshest of garden leaves in a Pyrex bowl, tossed in delicious hazelnut oil dressing – is a highlight of meal here for me, and I always look forward to it. The beautiful dining room is the perfect setting for such unaffected food, and Kieran's famous wine list the perfect accompaniment. Next morning, popping up to Dominick Kelly's for some meaty Mayo treats to take home, Sean Kelly told me I'd just missed John Gavin. He's that kind of chef.
5. The Old Convent Gourmet Hideaway Clogheen Co Tipperary SOUTH-EAST
For some, a quiet couple of days pampering in a child-free zone may mean a spa break but,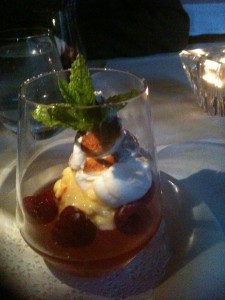 for those in the know – or for anyone who simply hankers after a superb dinner – a visit to Clogheen is the business. Dermot and Christine Gannon's gorgeous 'gourmet hideaway' is in one of the most beautiful and unspoilt – yet relatively little known – parts of the country, and we just love it. Sometimes the rooms are fully booked but we find it no hardship to stay in Clonmel at the riverside Minella Hotel, where you can chomp on one of Con Traas' delicious apples from The Apple Farm nearby while checking in (free on reception desk for guests), and pop along to the Old Convent for dinner – a growing proportion of which is supplied by their own extensive gardens. Dermot's cooking is exceptional, offering only a daily-changed 9-course Tasting Menu, plus an optional Irish cheese platter. Many diners (including ourselves) might be wary of the Tasting Menu, but servings are perfectly-judged, the cooking is stunningly accurate – and everything is perfectly seasoned: there is no cheffy arrogance here and a (tiny) salt and pepper set is offered on tables, but Dermot has such a sure palate that it's never needed. This is always a special experience and 2012 saw him at the top of his form – maybe it's something to do with the safe arrival of young Ollie, the son and heir…
6. The Beach House Buncrana Co Donegal NORTH-WEST
Every year we look forward keenly to going back to Donegal, happily planning re-visits to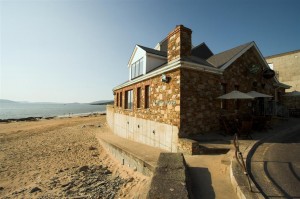 places we've known for years, along with some exciting new ones to try. It's a big county, with mountains and heavily-indented coastline making for slow progress, so we do it in high summer when the days are at their longest. Regular treats along the way include, of course, Harry's Bar at Bridgend, Rathmullan House, and The Mill, Dunfanaghy – and, this year, a very good dinner at The Sandhouse Hotel (much improved now that the restaurant has been moved to the first floor, overlooking the beach). But the highlight of the 2012 trip was a leisurely lunch at The Beach House beside Buncrana pier, where we gave in to the temptations of Peter Cheesman's lovely menu (including a delicious seafood platter) and lingered much too long, enjoying the beautifully presented food, friendly staff and the long view down Lough Swilly with the Rathmullan ferry plying backwards and forwards in the sun. Bliss.
7. Longueville House Hotel Mallow Co Cork SOUTH
Longueville House is the jewel of north-west Cork and many's the time it's been the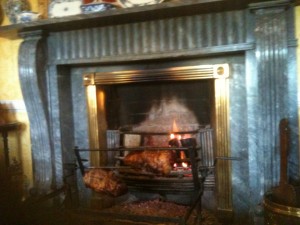 making of a visit to the area for us – highlights include some very special overnights, several lunch breaks that have transformed a journey into an outing, and a memorable breakfast stop once made with three hungry boys en route to a join a boat in Baltimore for a sailing holiday…Every time we go, we wonder what William and Aisling O'Callaghan will be up to this time, as they are always dreaming up new ideas for this wonderful property. Recently, the introduction of their new Longueville House Cider has, quite rightly, been making waves. It's become a special Sunday lunch destination too – and now we know why. It's absolutely brilliant, with the relaxed atmosphere that you don't really get in the same way in the evening, the old conservatory looking its romantic best, and lovely views down through the fields. Tables groan under the weight of delicious buffet dishes set out for the starters and desserts – and the star of the show is meat from the estate spit-roasted over the drawing room fire! It's simply gorgeous and I kid you not, this is one of the most extraordinary Sunday lunch experiences in Ireland and well worth seeking out. Go there.
8. Lady Helen Restaurant Mount Juliet Thomastown Co Kilkenny SOUTH-EAST
The recession has played havoc with Irish hotels and the most successful ones are not only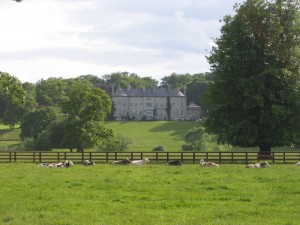 finding ways of attracting new business, but also ways to keep guests on site and using their facilities as much as possible during their stay. This is the aim of William Kirby, Resort General Manager at this extraordinarily beautiful and yet relaxed country estate, and it is being quietly achieved in such a way that – other than perhaps a visit to Kilkenny city – many guests feel no need to leave the 1500 acre estate at all during their stay. And why would you, with so much to do – not only the golf it's especially renowned for, but a host of other activities too – there's an equestrian centre, for example, and everything you can think of ranging from fishing to wellness. And then there's the food. Guests have the choice of the stylishly informal Kendals restaurant at Hunters Yard and the fine dining in the graceful formally appointed Lady Helen Dining Room – which has recently upped the ante to become a serious dining destination, thanks to outstanding cooking by a talented team led by Executive Chef Cormac Rowe and head Chef Ken Harker. Great attention is paid to seasonality, and to the use of local and speciality foods on both the à la carte and the Lady Helen Signature Tasting Menu. The cooking has real finesse, demonstrating great skill and care – and, while it may be a little dainty for hearty eaters, the main ingredients have real flavour and garnishes truly complement each dish. All round, it's a wow, especially if you are lucky enough to have a window table and enjoy the rooks preparing to roost; congregating and swirling in the dying light, for us this spectacle of nature added an extra spark of magic to a memorable meal.
9. Ardagh Hotel & Restaurant Clifden Co Galway WEST
Connemara is well-seasoned with good eating places, old favourites like Ballynahinch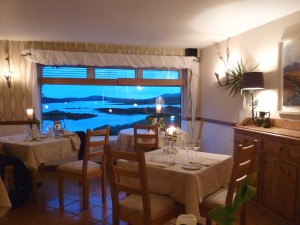 Castle, Cashel House, Renvyle House and Mitchels of Clifden among them. But sometimes a gem slightly off the beaten track can be overshadowed and, being a little outside bustling Clifden, and in a low key '60s hotel build, there's a tendency for visitors to overlook Stéphane and Monique Bauvet's long-established and very beautifully located restaurant when considering their dining choices. This is a pity, as they're serving some of the best food in the area, as they have done for many years. The restaurant is a light-filled room on the first floor, with wonderful sea and mountain views, and Monique Bauvet's wide-ranging menus (several are offered) are based on the very best of ingredients including home grown organic vegetables and salads, an extensive choice of local seafood, and some local meats, notably Connemara lamb. Last summer's visit confirmed what we've always known about the consistent quality, attention to detail and value offered here. This is a kitchen where food is prepared to order – so, for example, an ingredient disliked by a diner can be omitted from an otherwise attractive dish (which is often not the case in today's restaurants). Delicious home-made breads, deeply-flavoured soups (including the creamy house chowder), unusual side dishes and light, joyfully seasonal desserts are among the details that stand out, along with the home-made petits fours served with your coffee (or tea/tisane) and efficient yet relaxed service from Stéphane Bauvet's team. A real treat, offering real value – and, for visitors, the sense of 'making a find'.
10. Island View Restaurant, St Kyrans, Virginia, Co Cavan NORTH-EAST
Co Cavan's culinary claim to fame is impressive these days, thanks to exceptional
restaurants like MacNean House & Restaurant, Blacklion; The Olde Post Inn, Cloverhill; and perhaps, since the arrival of new chef Philippe Farineau in autumn 2012, Radisson Blu Farnham Estate, Cavan. A stunning book launch dinner at MacNean Restaurant was most emphatically one of the best meals of 2012 and the county now seems to have a new destination dining spot to consider, at Virginia, where Patrick and Helena Keenan's recently-built restaurant with rooms enjoys a stunning shoreside location, looking right up Lough Ramor with its fishing boats and wildlife activity around pretty wooded islets. While it may still look a little raw and 'nouveau' from the road, that's quickly forgotten once you're inside a restaurant that's filled with shimmering light from the lough – and, while aiming to keep the ambience light and informal, chef Thomas McCaul's food is quite classical and seriously good… With excellent breads; complimentary little tasters of something (celeriac soup, perhaps); treats like seared scallops with pressed ham terrine among the starters; and mains including Kettyle beef or a trio of seafood (with unusual seasonal accompaniments such as baby new potatoes, leek & shallots and a warm tomato vinaigrette), you just want to try everything. We did pretty much that and, with every dish tasting as good as it looks – which was very good indeed – it's easy to see why this restaurant is quietly drawing diners from a very wide area.