Irish artisan foods make great gifts and support small family-run businesses, so how about making up a DIY hamper with your favourites? For ideas, I've drawn up a delicous Top 20 selection of my own favourites from around the country – and a Top 20 shops too, which represent the many dozens of superb businesses offering the best of Irish produce, and often offering all-Irish hampers too.
20 Great Irish Artisan Food Products for Gifts and Hampers (random order):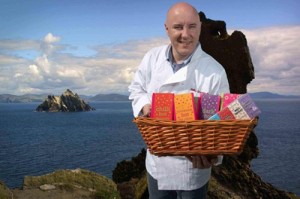 This is a balanced selection from the foods we've enjoyed most this year on our travels around the country. Two – Sally Barnes' Hot Smoked Albacore Tuna and G's Gourmet Jams Rhubarb & Ginger Jam – were in the Great Taste Awards Top 50 this year (along with several other Irish products). Any one of these beautiful products would make a lovely small gift, or you could combine several to make up a home-made hamper. Most of the shops recommended below will carry a good selection, and most will also offer hampers.
Hot Smoked Albacore Tuna, Sally Barnes' Woodcock Smokery, Co Cork
Burren Smokehouse Smoked Fish Platter (mixed fish) Co Clare
McGeough's Air-dried Meats (lamb, beef pork) Co Galway
Goatsbridge Trout Caviar, Co Kilkenny
Crowe Farm's Organic Dry Cure Back Rashers, Co Tipperary
Irish Atlantic Sea Salt, Co Cork
Knockdrinna Kilree Goats Cheese, Co Kilkenny
Bellingham Blue Cheese, Co Louth
Gubbeen Farm Cheeses & Smoked Products, Co Cork (also supplied in hampers)
Sheridans Crackers for Cheese (made by Cookies of Character, Co Cork)
Skelligs Handmade Chocolate Truffles, Co Kerry
Highbank Orchard Syrup, Co Kilkenny
Longueville House Cider, Co Cork
Sparkling Irish Apple Juice The Apple Farm, Co Tipperary
Country Choice anything (let's say Christmas Pudding), Co Tipperary
Cranberry & Almond Shortbread, Seymours of Cork
Sheridans chutney for cheese (made by Janet's Country Fayre, Co Wicklow)
Rhubarb & Ginger Jam, G's Gourmet Jams Co Offaly
Deise Irish Honey, Co Waterford
Green Saffron Mulled Wine spice mix, Co Cork
20 of the Best Speciality Food Shops – for individual purchase and/or hampers (random order)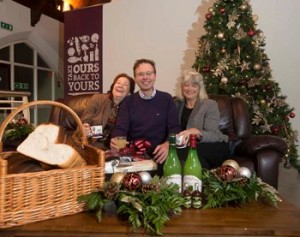 This is just a small selection of great food shops from the growing number of speciality food stores all around Ireland. Most will stock a good number of the products recommended above, and/or offer Irish artisan food hampers. A gift token for a speciality food shop would also make a great gift