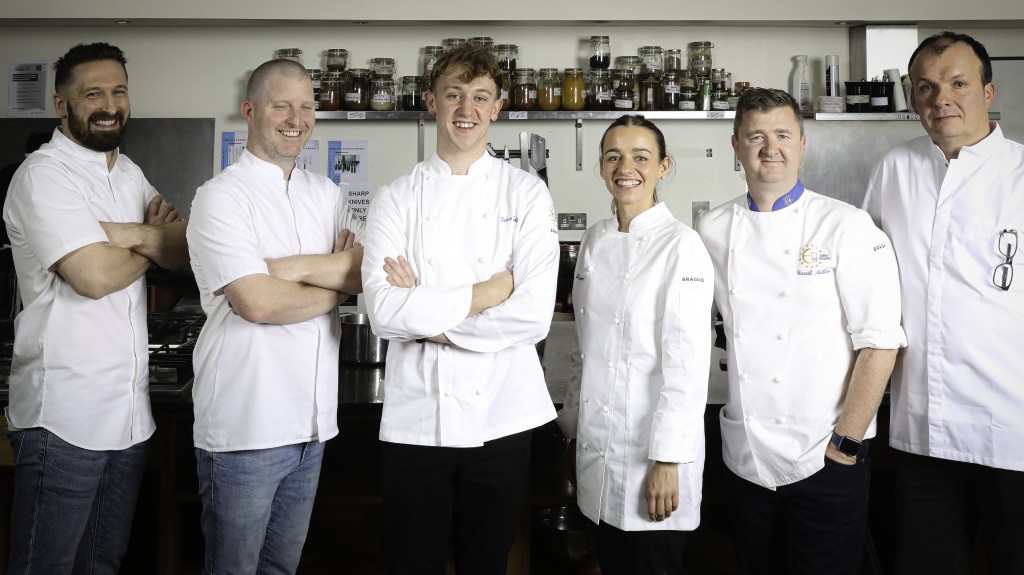 The Euro-Toques Young Chef of the Year competition 2022 presented by La Rousse Foods started in May and guided the young chefs through a culinary journey that culminated with a final skills test in the professional kitchens of Dublin Cookery School in Blackrock and a gala dinner at the Dublin InterContinental Hotel – where Calum Falls was announced the Euro-Toques Young Chef of the Year 2022. For the last stage of the competition seven finalists were required to devise two original dishes — a main course based on blackface mountain lamb and offal with grains and spices, and an original dessert using Irish raspberries. Finalists David Condon (The Shelbourne), Calum Falls (Aimsir), Victor Franca (Nua Asador), Attila Galambos (Aniar), Leticia Miranda (Mae Restaurant), Shauna Murphy (Adare Manor) and Eoghan O'Flynn (Liss Ard Estate) each created an imaginative and sophisticated series of dishes for the judges to taste, discuss and score.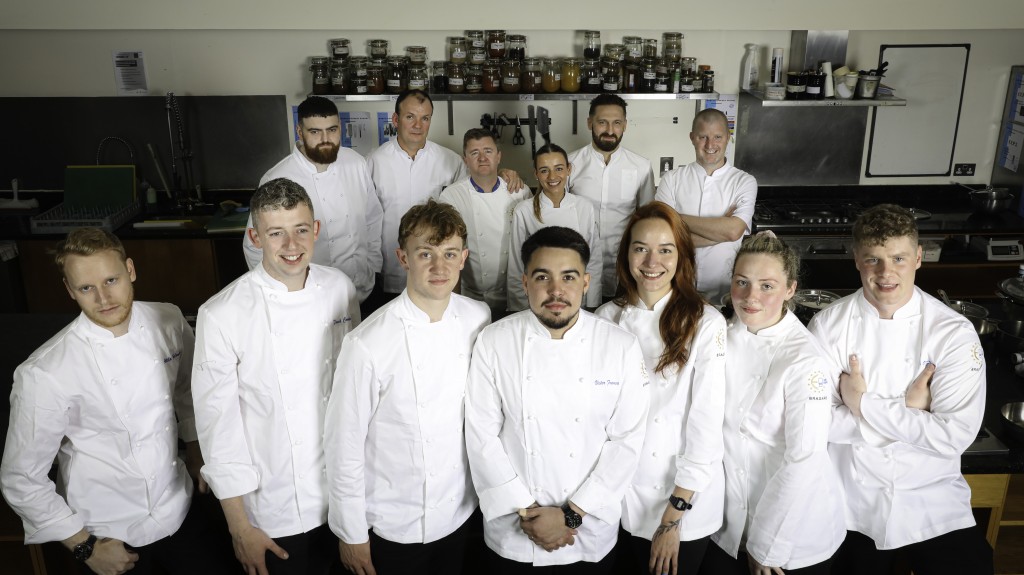 The candidates cooked their dishes for five guest judges – chefs Martina Puigvert Puigdevall of two-Michelin star and Green star Les Cols in Catalunya, Kieran Glennon of Restaurant Patrick Guilbaud, Keelan Higgs of Variety Jones, Graham Neville of Dax and Gareth Mullins of The Marker, in addition to judges running the kitchen on the day, Domini Kemp and Conor Halpenny. Each of the young chefs worked hard to fulfil these two challenges, testing all the skills essential in a kitchen from knife skills and palate to creativity, ability to plate, cooking, timing, seasoning, technique and understanding of raw ingredients.
To produce their two innovative, interesting and accomplished dishes the young chefs had three hours of focused cooking and each of them was marked under three separate headings – execution and work practice, taste and flavour, and presentation. With legs of lamb and offal supplied by Calveys Achill Mountain Lamb and Irish raspberries, the young chefs were tasked with choosing their own additional ingredients, reflecting the Euro-Toques philosophy of local, artisanal and seasonal. At the finals, judges watched the competitors at work, tasted and tested, and made a decision as to which of these young talents became overall winner of this year's competitive adventure. Fnalists were expected to use their creativity and demonstrate their cooking skills, considering Irish traditions and heritage but combining it with the diversity of today's modern kitchen.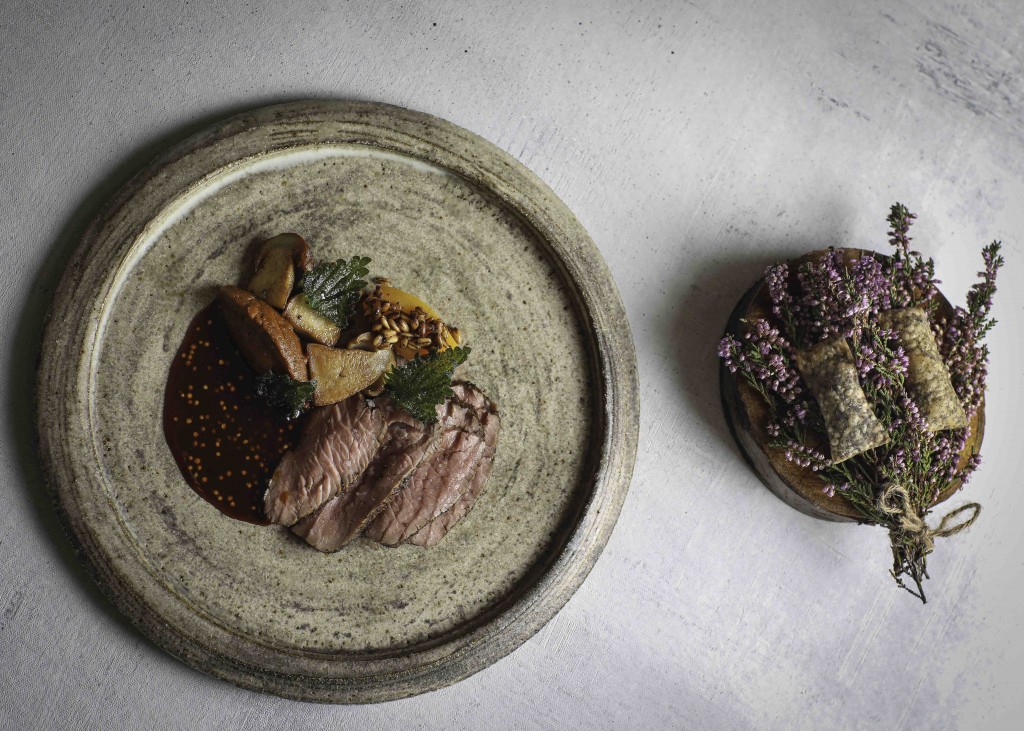 The winner, Calum Falls of Aimsir, was mentored by chef Jordan Bailey and created a main course of caramelised lamb liver, puffed dulse cracker, heather, spiced lamb leg, brown butter butternut, ceps, nettles and a dessert of raspberries, buckwheat, rose, honey shortbread, impressing the judges with his flair, imagination and skill in execution. The Euro-Toques Young Chef of the Year competition is Ireland's premier culinary competition celebrating Ireland's best emerging culinary talent. Increasingly focused on education, together with presenting partner La Rousse Foods, Euro-Toques Ireland developed a programme for this year's competition that included workshops, demos, visits to suppliers and culinary activities aimed at mentoring and developing the exciting wave of new Irish culinary skill. Euro-Toques Young Chef of the Year finalists enjoyed a series of masterclasses with chef Mark Froydenlund and with previous winner of the competition Jack Lenards in two-Michelin star Liath, visited Ballymaloe with a lunch cooked by Rob Krawczyk of Chestnut and Aisling Moore of Goldie and a spice masterclass from Arun Kapil, took a trip to Amsterdam with visits to biodynamic farms and a masterclass and lunch in Vermeer and attended the Big Grill festival. Attending Food on the Edge is also part of the package, plus a workshop with Chef Patissier Benoit Blin of Le Manoir aux Quat'Saisons organised by La Rousse Foods.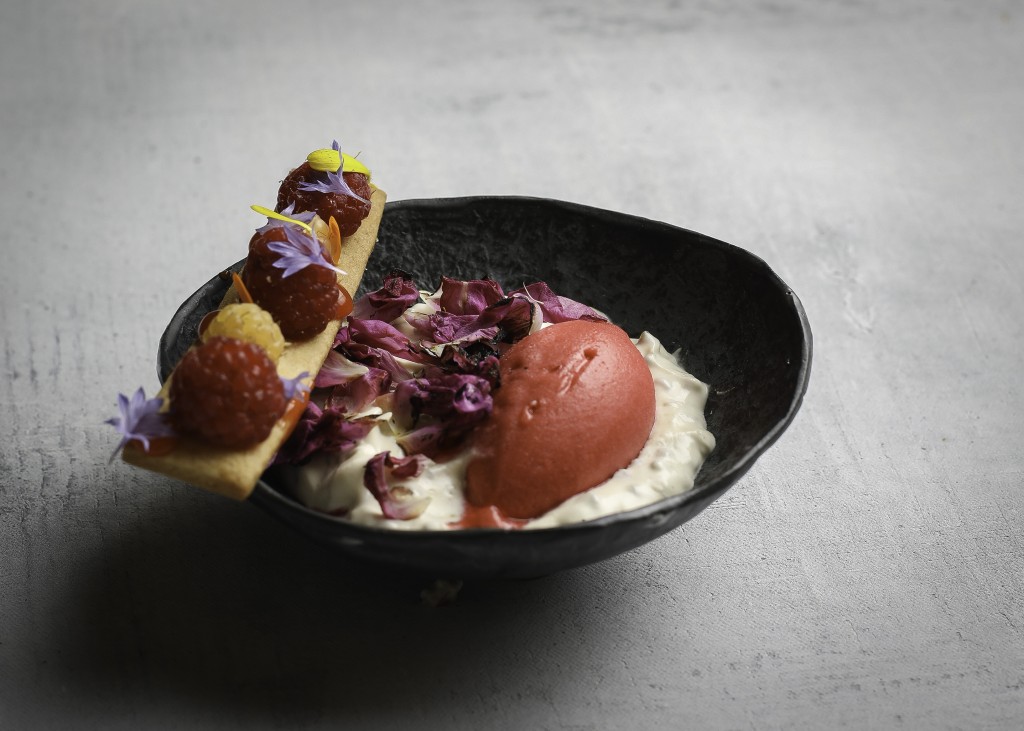 The gala dinner in the InterContinental featured canapés using Euro-Toques Food Award-winning Irish ingredients and courses created by the mentor kitchens of some of the finalists as well as friends of the competition, including a starter from Aniar, a fish course from Goldie, a main course from Restaurant Chestnut and Square Restaurant, dessert from Library Street and an all-island cheese board served with honey and crackers. Producers and suppliers featured on the gala night menus included Achill Island Sea Salt, The Apple Farm, Ballymakenny Potatoes, Bó Rua Farm, Bread 41, Cáis na Tire, Corleggy Cheese, Cuinneog Butter, De Brun, Goatsbridge Trout, Grá Chocolates, Isle of Crackers, Kish Fish, Kylemore Farmhouse Cheese, Skeaghanore Duck, Sliabh Aughty Honey, St. Tola Cheese, Velvet Cloud, Wild Irish Game and Young Buck, with wines by LaRousse Wines.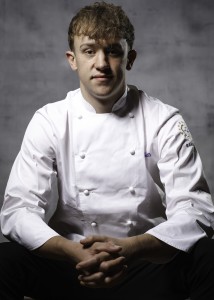 Guest chef Martina Puigvert Puigdevall of two-Michelin star Les Cols in Catalunya announced this year's Euro-Toques Young Chef of the Year, calling Calum Falls to the stage to receive his trophy. Manuela Spinelli, Secretary General of Euro-Toques Ireland said, "On behalf of all the Euro-Toques Ireland team, I would like to congratulate Calum Falls Euro-Toques Young Chef of the Year 2022. The competition was very close but all the judges were really impressed with both of Calum's dishes and it is incredible to see such talent emerge at such a young age in our competition. This is such a rewarding competition to be part of, witnessing young talent developing in front of our eyes every year. It has been another year full of surprises and excitement, great flavours and some serious skill. I'd like to thank all the participating chefs, our guest chefs, restaurants and mentors, producers and suppliers, and our presenting partner La Rousse Foods. They say it takes a village to raise a child but it takes the participation of our whole food community to support the recognition and development of these young chefs. We are so grateful to everyone for being part of this high-calibre contest designed to preserve our culinary heritage by inspiring the future."
Open to professional chefs under the age of 28, the competition has a proven track record in discovering exceptional young talent, giving all the young chefs who have taken part this contest a unique experience providing recognition throughout Ireland and beyond, and acting as a prestigious stepping-stone in their culinary career.