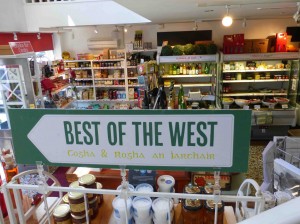 County Mayo's well deserved reputation as a leading light in Ireland's good food revolution is down to the hard work and determination of a relatively small but growing number of dedicated people – and it would be hard to imagine that any can have worked harder or more effectively than the McMahon family of the hugely popular Café Rua on New Antrim Street in Castlebar (established in1995 by Ann McMahon) and its younger sister Rua café, deli and bakery on Spencer Street, which opened in 2007.
Ann's children Aran and Colleen now run the business, staying true to their mother's philosophy of serving 'uncomplicated food using seasonal and local ingredients', and it has not only become a major destination for food lovers but is a wonderful source of inspiration to everyone involved in producing and serving good food in Mayo, and indeed all over Ireland. With their menu and deli always featuring local meats, cheeses, jams, chutneys and vegetables, who can imagine a visit to Castlebar without a bite to eat or a bit of shopping at Rua?
So, although up against serious competition from the year's Restaurant of the Month winners (an impressive collection of top establishments across the country which feature in our monthly ezine), Rua Deli, Bakery & Café was an exceptionally deserving Bord Bia Just Ask Restaurant of the Year winner for 2016. The Bord Bia Just Ask campaign, now in its seventh year, encourages restaurants to promote local produce to encourage transparency between customers and suppliers and this all comes naturally to the team at Rua. As Aran McMahon says, "We use numerous blackboards to announce various dishes of the day and afford respect to proudly named suppliers.  Local Mayo farmers supply our beef, lamb and free range pork, and we source our fish from six different seafood providers on the west coast.  Local herbs and vegetables are supplied by our local rural training scheme, our own polytunnel, and other local suppliers."
To coincide with the announcement, Bord Bia also revealed new research confirming that Irish people are now hugely supportive of local foods, with over three quarters (76%) of respondents saying they would be more inclined to visit a restaurant which actively promotes and serves local produce, and 67% citing that they would choose a dish containing local produce over imported food when dining out. Furthermore, 88% would like to see local suppliers listed on a menu when dining out.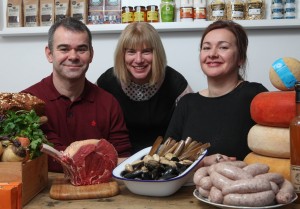 Commenting on the research, Maureen Gahan, Bord Bia said: "We're delighted to see that consumers are increasingly proactive about selecting local restaurants and seeking information about where the produce on the menu originates from. It shows an appreciation of our wonderful produce and culinary expertise. The strong research results show it's a win-win for restaurants to promote their suppliers, as customers are now actively choosing local foods when they can. We would encourage all other restaurants interested in taking part to get in touch as we are happy to help provide guidance on promoting local foods.''
Bord Bia's Just Ask initiative encourages chefs and restaurants across the country to engage with local suppliers and promote them to customers
Recognising their support of Mayo food and drink suppliers, Rua was selected as the national leader in the field for 2016
Support for local food suppliers is growing nationally, with new research revealing 76% of Irish people would be more inclined to visit a restaurant which actively promotes and serves local produce