A great day was had by all today at Bord Bia Head Office in Dublin where the annual Georgina Campbell Awards were held.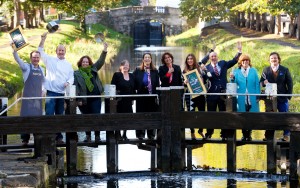 It's always an invigorating experience to be surrounded by a group of individuals from within the top percentile of the industry and members of the food and hospitality press.
It's a low key, informal ceremony which is followed by a delicious lunch prepared by Bord Bia chefs. Food and drinks are taken standing which means there is plenty of mingling and you get to speak to most of the people present who have travelled up to the awards from all parts of Ireland.
See below for the press release on the event or click here to view all winners
Irish Hospitality At Its Best - and Well Earned Acclaim For Its Leaders
At The Georgina Campbell Awards – Ireland's Original Hospitality Awards!
Representatives of the very best in Irish hospitality gathered at Bord Bia in Dublin today, for the announcement of the 2015 Georgina Campbell Awards, associated with the respected Georgina Campbell's Ireland independent hospitality guides, and Ireland's most popular independent hospitality and travel website www.ireland-guide.com. These are Ireland's longest-running hospitality awards, and highly respected by the industry.
Every year Georgina Campbell and her team of experienced assessors comb the country's hotels, country houses, guesthouses, restaurants, pubs and cafés, seeking out the best consumer experiences for readers of The Guide ('the glovebox bible') and followers of the very successful website, www.ireland-guide.com. Speaking about the ongoing search for excellence, Ms Campbell said,  "Our programme of anonymous assessment visits has continued throughout the season as usual, always keeping a sharp eye out for those exceptional establishments which are right on top of their game and going the extra mile for customers.
Once again this year, we have found plenty of new ones worthy of recommendation, especially in urban areas, and it is always exciting to see newcomers to the hospitality industry who understand the importance of standards and want visitors – domestic and from abroad – to enjoy Irish food and hospitality at its best. We are not seeking perfection but hospitality with real heart, and we're finding it in clusters of excellence all over the country. We've had some especially good experiences in Northern Ireland this year, and in areas like Westport and Kilkenny where communities work together to promote quality and bring together different elements of  hospitality, through food trails for example. However it seems to me that there is a lot of work to be done before we can confidently promote Ireland as a 'food tourism' destination."
Commenting on the Awards, Georgina Campbell said, "There is no doubt that we are finally seeing the long-anticipated recovery this year. A marked upturn in business has been reported everywhere, and this is borne out by official figures. Better access through Shannon has given the West a much needed boost, probably helped by the publicity drive ahead of launching the Wild Atlantic Way this spring – although this initiative has elicited mixed feelings for a number of reasons, including excessive signage, which can be very intrusive. The western counties tend to work especially hard to attract (and keep) visitors, and they are well represented in our Awards. Like last year, the new restaurants are most often in the dining pubs or bistro/brasserie categories, and also tea rooms and café/bakeries, reflecting a general trend towards informal dining – all of which is also reflected in our Awards – but, to the surprise of some, fine dining is also thriving. We have enjoyed some outstanding examples this year, including 'fine dining without the frills', ie cooking that has real finesse but with a more relaxed service style than in traditional fine dining."
On food trends, Georgina Campbell said, "Northern European influences remain strong and stunningly artistic creativity still characterises the work of some of the top chefs – but the move towards simpler, more direct styles continues to strengthen. Tapas style 'small plates' are still popular, especially sharing plates that make sociable starters. But, as I commented last year, Irish diners like 'a proper meal' and it is interesting to see that many 'tapas' menus now offer full size main courses as well as the smaller dishes. An emerging trend is for authentic Asian street food, and I would expect to see that developing in the coming year." On the foods coming into favour, Georgina Campbell said, "Vegetables are being taken much more seriously, foraging remains a big interest both for chefs and the public, and one of our most prolific renewable resources – sea vegetables – is a very hot topic. On the meat front, buffalo meat from West Cork is a niche interest, but growing, and at last there are signs of interest in one of our most neglected foods – goat meat. Connecting local Irish suppliers, restaurant kitchens and, ultimately, the customer continues to be a strong trend and it is pleasing to see Bord Bia's "Just Ask" initiative continuing to yield real results. Increasingly, chefs are proud to champion local producers on their menus, and waiting staff are also becoming accustomed to explaining provenance to customers – although, once again this year, we have found that poor service continues to be an issue in too many establishments of all types and proprietors urgently need to understand the value of investing in staff training. Equally worrying is the increased number of poor meals we have experienced this year, even in previously reliable establishments. Standards are very variable and I do wonder if we are over-selling Ireland. It would be far wiser to address problems than pretend they don't exist. The chef shortage is not new, but it has reached a crisis point that threatens to undo much of the good work done in Irish restaurants in recent years, and needs to be addressed as a matter of urgency. Some individual chefs are offering apprenticeship schemes, and such admirable enterprises should be encouraged. On a larger scale, the Restaurants Association of Ireland is asking for assistance to deal with the chef crisis in their pre-budget submission, and we would support that call."
Trends in the accommodation sector are always interesting: "There are still a lot of tired furnishings but, as confidence grows, post-recession, many establishments are finally able to undertake overdue refurbishment, much of it pretty basic – the 'sagging mattress' count has thankfully gone down this year. Customer demand is continuing to motivate practical changes in bedrooms and bathrooms: even where space is quite tight, the best establishments are finding room for a separate bath and shower if at all possible and, where that simply cannot be done, some ingenious bath/shower combinations are appearing. Queen size twins or zip and link double beds, popular with Chinese and Japanese visitors, are continuing to replace super kings. Another interesting point that has emerged is that the availability of free WiFi is a deal breaker for many customers when deciding where to stay." Problem areas include the continuing issue of unregistered accommodation, with an ever-growing number of established businesses opting to de-register from the Failte Ireland Approval scheme to reduce their cost base. The Guide does not promote unregistered accommodation – it is illegal to open accommodation for business in Northern Ireland without inspection and certification by NITB, but unfortunately there is no such requirement in the Republic. "Our visitors and our leading hospitality businesses both deserve better – must we have a tragic event in an unregistered establishment before this issue will be taken seriously? Some establishments are letting the side down, and it is not a level playing field in business terms. As we have said any times before, a simple and inexpensive system of mandatory registration is needed, perhaps independent of Failte Ireland."
Unlike other predictable, commercially-led awards, the Georgina Campbell Awards always include some unexpected choices and out of the way surprises – and, said Ms Campbell, "Importantly, these awards are more than the sum of their parts as each selection is not just an accolade but illustrates a key point, so the collection as a whole gives a valuable snapshot of the best of Irish hospitality today, demonstrating its strengths and showing how good food and hospitality can lead the way forward to a better future for all. In this connection, the Guide calls on the Government to retain the current VAT rates in the forthcoming budget in order to help this important sector to continue its recovery."
Top award winners on the day included: Beech Hill House Hotel, Derry-Londonderry (Hotel of the Year); Kai Café & Restaurant, Galway (Restaurant of the Year); Derek Creagh, Harry's Restaurant, Bridgend, Co Donegal (Chef of the Year); The Long Dock, Carrigaholt, Co Clare (Pub of the Year), and Bill & Isabelle Kelly, Kelly's Hotel, Rosslare, Co Wexford (Georgina Campbell Award, for special contribution to Irish hospitality).
Ireland's longest-running hospitality accolades, the Georgina Campbell Awards are completely independent. Unlike most other award schemes, they are not commercially driven and in no way affiliated with trade associations or marketing groups; there is no charge to establishments for recommendation or any element of the awards process. It is this independence which has earned them special respect in the industry, and public trust. Accolades from a respected independent guide are not only a source of encouragement – and very good for winners' business – but also set a benchmark for others in the industry who are determined to achieve a similar level of excellence.
Although most closely associated with good food, the Guide's accommodation recommendations are equally respected; as outlined above, it should be noted that the Guide does not promote unregistered accommodation. All Northern Ireland accommodation is registered and therefore suitable for consideration but, in the Republic, only registered (Failte Ireland Approved) accommodation is considered.
Georgina Campbell Guides are grateful to Bord Bia, sponsors of the "Just Ask!" Restaurant of the Year Award, who kindly hosted the event.