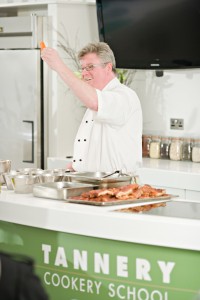 West Waterford Festival of Food (10-13 April 2014)
Ah, wonderful West Waterford, that diverse and somehow mysterious area south-west of Waterford city. Embraced by the borders of Tipperary and Cork, and with a long coastline backed by mountains and river valleys, it is one of Ireland's most exciting food regions and an enchanting place that, once discovered, you'd be sorely tempted to keep to yourself.
Once Ardmore's old Cliff House Hotel re-opened as a quirky modern five star property with destination restaurant in 2008, West Waterford was guaranteed a place on the must-visit short breaks list for a new generation of food-lovers – who also make a bee-line for Dungarvan, where Paul and Maire Flynn's pioneering restaurant, The Tannery, has been a culinary beacon since 1997, and the West Waterford Festival of Food (10-13 April 2014) is fast gaining a reputation beyond these shores. Yet, despite its new-found popularity, the area remains unspoilt and serene, a place of great beauty and exceptional hospitality where talented artisans go quietly about their business producing outstanding foods, which dedicated chefs take pride in showcasing on their menus.
And it would be no hardship to be offered solely the foods of West Waterford: with Comeragh mountain lamb, fresh fish and seafood from Helvick, organic fruit and vegetables, an unusual range of cheeses, great baking (including the famed Waterford blaa), and farmhouse ice cream among the local specialities – and craft beers to wash it all down too – what's not to like.
There's a special kind of hospitality at work in West Waterford too, you find it everywhere in the friendly restaurants, characterful pubs and lovely places to stay – and there's somewhere special for every pocket and occasion. The Cliff House Hotel is nicely balanced by the long running White Horses Restaurant in Ardmore village, for example, while other food-focused hotels and guesthouses such as Ballyrafter House (Lismore), Richmond House (Cappoquin) and Hanora's Cottage (high up in the Nire Valley) have warmth and charm, and good mid range and daytime eating places include plenty in Dungarvan such as The Moorings waterside bar Louise Clarke's quirky Nude Food.
Once you make your first visit to West Waterford, you'll wonder what took you so long. It's simply magic.
HIDDEN GEMS
Tel: +353 24 94304; www.stayatnewtown.com
In a quietly stunning waterside location, Georgina and Michael Penruddock's lovely nineteenth century house is actually on the Waterford side of the Blackwater estuary, with magnificent views across to Youghal – and its tranquil situation offers a degree of solitude that is becoming increasingly rare. Beautifully located, superbly comfortable and genuinely hospitable, Newtown House deserves to be better known.
Tel: +353 58 42338; www.cairbrehouse.com
An address of choice for many discerning visitors to Dungarvan, Brian Wickham's fine old house is just across the bridge from the town centre. This homely haven of waterside tranquillity is of great historical interest and set in wonderful gardens. Brian's extensive bird-feeding stations provide entertainment at breakfast, which can be served in the garden in summer.
Tel: +353 58 46142; www.gortnadihalodge.com
A former cheesemaker, Eileen Harty cossets guests in this very comfortable B&B, quietly located yet near Dungarvan town west of Dungarvan in the Ring Gaeltacht. In a lovely quiet setting, with woodland gardens, it enjoys wonderful land and sea views.
Tel: +353 52 613 6134; www.hanorascottage.com
Beautifully located in the Nire Valley – equally wonderful for foot-weary walkers, or desk-weary city folk in need of some clear country air and real comfort – this a very special place, where the genuine hospitality of the Wall family is matched by luxurious accommodation and the good food Euro-Toques chefs Eoin and Judith Wall cook for their legendary breakfasts. and the restaurant (open to non-residents).
Tel: +353 52 613 6108; www.glashafarmhouse.com
Set in its own gardens high up in the hills, this is no ordinary B&B: Olive and the late Paddy O'Gorman made their spacious farmhouse into just the kind of place that visitors dream of finding when they come to Ireland. Extremely comfortable and hospitable, with dinner by arrangement – and a good pub just a couple of minutes' walk down the road.
Tel: +353 58 54278; www.richmondhouse.net
Genuine hospitality, high standards of comfort, caring service and excellent food are all to be found in the Deevy family's fine 18th century country house and restaurant just outside Cappoquin – no wonder this is a place so many people like to keep as a closely guarded secret
Tel: +353 58 54002; www.waterfordhotel.com
You could easily drive through this Heritage Town and miss Joe and Noreen Willoughby's laid-back country house hotel, but this quirky place has become something of a cult destination of late. Fishing is a big draw, but a relaxing atmosphere, log fires and good home cooking in the bistro (open to non-residents) should please all comers.
LOCAL KITCHEN HEROES
Tel: +353 58 45420; www.tannery.ie
Thanks to RTE's Martin & Paul's Surf & Turf, Paul Flynn needs no introduction these days, but he put Dungarvan on the map for discerning diners over a decade ago. Renowned for memorable 'real food', Paul's menus are wonderfully simple yet, paradoxically, the food tastes very exciting; while inspired to some extent by global trends and regional cooking, particularly of the Mediterranean countries, his menus have a strongly Irish feeling and focus on local ingredients, which Paul supports avidly and sources with care – notably local seafood of course, also meats including pork and bacon supplied by renowned local butcher JD Power. Even hardened food critics are continually surprised by Paul Flynn's cooking which, as one fellow chef once put it, "makes dishes which one thought one knew taste as if one was eating them for the first time".
Tel: +353 24 87800; www.thecliffhousehotel.com
Martijn Kajuiter, gifted Head Chef at the Cliff House Hotel, moved from his native Holland with his family to settle in the area ahead of the hotel re-opening in 2008 – and his dedication has made a major impression on the Irish culinary scene and beyond, attracting a steady stream of accolades, both national and international. Simply worded menus speak of his philosophy – organic Clare Island salmon, Irish free-range pork, local Suffolk lamb, Ballinwillin venison (or even partridge), Helvick turbot, hake and monkfish and Skeaghanore duck (from nearby County Cork) may all feature, also organically grown produce grown on a nearby allotment and in a polytunnel on-site. Seasonality is king here, and menus depend absolutely on the availability of fresh local produce. Yet, for all the strong simplicity of ingredients, they appear in a highly sophisticated international cuisine, and with many original touches, as seen in the book Let's Go Disco. A meal cooked by Martijn and his team is an exceptional and very labour-intensive dining experience that fans will travel great distances to sample, and it offers remarkable.
Eunice Power, Powersfield House B&B, and Eunice Power Outside Catering, Dungarvan Co Waterford (www.eunicepower.com)
Well known to readers of the Irish Times Magazine for her baking prowess, Eunice is one of the area's most dynamic food personalities. As well as running a stylish and very comfortable  B&B (renowned for outstanding breakfasts), she also operates a highly successful outside catering company – and teaches at the Tannery Cookery School.
SPECIAL LOCAL FOODS TO LOOK OUT FOR: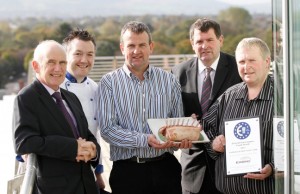 Mountain lamb is in season from early autumn to late winter and is keenly sought after for the lean meat and unique flavour produced by a natural diet of grasses, herbs, wild flowers, heathers and pure spring water. Comeragh Mountain Lamb (comeraghmountainlamb.ie) produced by sixth generation farmer, Willie Drohan, and Aidan Dunwoody of Kilrossanty, features proudly on menus in the area and has been singled out for numerous accolades including a Euro-Toques Food Award in 2011.
[Photo: Dermot Byrne, CEO EirGrid; Gearoid Lynch, former Commissioner General of Euro-toques Ireland; Willie Drohan, Comeragh Mountain Lamb, Waterford; Shane McEntee TD, Minister of State at the Department of Agriculture, Food and the Marine with special responsibility for Food Safety, Forestry and Horticulture and Aidan Dunwoody, Comeragh Mountain Lamb, Waterford.]
The picturesque fishing port of Helvick, near Dungarvan, provides plentiful supplies of fresh local fish and seafood to the area's chefs, a point of   pride on many a menu.
A square yeasted bread roll with its origins dating back to the arrival of the French Huguenots in the late 17th century, the Waterford Blaa is one of only a handful of Irish foods protected by the European Commission. It was granted PGI (Protected Geographical Indication) status in 2013, which recognises that it is unique to the area and protects the name from being used by producers outside it. It is made by four bakeries – one of which, Barrons Bakery (www.barronsbakery.ie) at Cappoquinn, is in West Waterford – and even has its own website www.waterfordblaa.ie.
One of Ireland's best loved and most iconic brands, this sixth generation family firm has been milling oats beside the River Mahon at Kilmacthomas for over 200 years, making it one of Ireland's longest-running family businesses. All of their standard oats are produced in Ireland, and they're actively encouraging more Irish organic oat production to meet the growing demand.
Made from apples handpicked on Cappoquin Estate, the naturally produced Crinnaghtaun Apple Juice is a pressed, cloudy juice available in four styles. Find it in local shops, some supermarkets, and on menus.
A number of excellent CHEESES are made in West Waterford and well known
throughout the country: Knockalara, a firm sheep's cheese, is made near Cappoquin by Agnes & Wolfgang Schliebitz, who also produce Knockalara cubes in oil, Dromana plain and flavoured soft rounds in oil, and Comeragh mature farmhouse cheddar. Knockanore (www.knockanorecheese.com). is a distinctive semi-hard raw cow's milk made by Eamonn and Patricia Lonergan at Ballyneety, in the Knockanore Valley Triskel Cheeses – mainly soft goat, also a semi-hard cow's – are made at Portlaw by Breton woman Anna Leveque (partner of the Portlaw apple producer Philip Little) who was awarded a Euro-Toques Food Award for her range in 2012.
La Touche Organics, Cappoquin, Co Waterford (www.organicguide.ie)
Siobhan La Touche produces organic fruit & veg, green apples, juice and flowers. on her holding at Cappoquin. Vegetables include heritage and Irish varieties bagged, her mixed leaves  are available all year and fruit in season; sold at local markets and featured on menus.
Baldwins Farmhouse Ice Cream (www.baldwinsicecream.com).
Thomas Baldwin's ice cream is made in small batches on the family farm near Knockanore. Using fresh milk from their own dairy herd (not pasteurised or homogenised) it is made by the traditional crème anglaise method, and the difference is in the taste. Retailed in the area and features on menus.
*   Dungarvan Brewing Company, Dungarvan, Co Waterford (www.dungarvanbrewingcompany.com)
Producing and bottling craft beers here since 2010, brothers-in-law Cormac O'Dwyer and Tom Dalton and their wives Jen and Claire have earned a national reputation for their traditional brews, using only four ingredients: barley, hops, yeast and water. The core range is three beers – Black Rock Irish Stout, Copper Coast Irish Red Ale and Helvick Gold Irish Blonde Ale –
 plus seasonal and festival beers throughout the year.
4) SHOPS
The Country Store, Mitchell Street, Dungarvan, Co Waterford
(www.thecountrystore.ie) Purveyor of all things local and good, including products by Irish Times baking writer Eunice Power (who teaches at The Tannery Cookery School, has the excellent Powersfield House B&B and runs a successful catering business).
A rare treasure in an age of supermarket meat counters, this highly-prized fourth generation butcher and abattoir is of the old school, where home reared meats hang in the shop awaiting the customer's order.
The SummerHouse, Lismore, Co Waterford (www.thesummerhouse.ie )
Tucked behind a pleasingly classical shopfront, florist Gael Byrne has created a treasure trove offering kitchenware, homewares and gifts, along with local produce and delicious home bakes that are also served in the charming daytime café
Barrons Bakery & Coffee House Cappoquin, Co Waterford (www.barronsbakery.ie)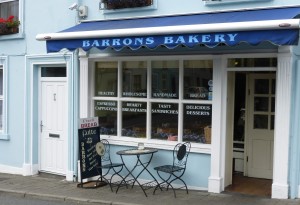 In business since 1887, Barrons still use the original Scotch Brick Ovens to bake their famously flavoursome crusty bread. "Proved slowly and naturally and the loaves are shaped by hand", the range is used for sandwiches in the coffee shop, along with other bakes and freshly prepared meals.
Ardmore Pottery & Gallery , Ardmore, Co Waterford (www.ardmorepottery.com)
A great asset to this pretty village, Mary Lincoln's working pottery produces appealing tableware on site and also sells a carefully selected range of Irish craftwork
Nude Food, Dungarvan, Co Waterford (www.nudefood.ie)
Londoner Louise Clark's café restaurant & deli may be small, but everything has real homemade flavour, and the deli counter offers plenty of freshly made and artisan products  – patés, cheeses and preserves plus an irresistible choice of scones, cakes and buns alongside gorgeous breads, both 'café-baked' and from Declan Ryan's renowned Arbutus Bakery in Cork
COOKERY SCHOOL – The Tannery Cookery School, Dungarvan, Co Waterford   (www.tannery.ie)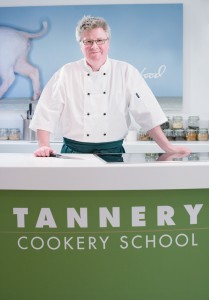 Students attending The Tannery Cookery School will be pleased to find that the acclaimed chef's refreshingly down to earth philosophy remains firmly in place here. Offering an exciting range of courses to suit all tastes and abilities, from evening demos to a five day hands on course, Paul teaches many of the classes himself, ably assisted by guest chefs and regular demonstrators, including Eunice Power of nearby Powersfield House. The adjacent Glanbia organic garden – which is open to individuals or groups, including school
Useful references:
West Waterford Festival of Food www.whichfestival.com/#!festival:waterford-festival-of-food-ie
Waterford Good Food Alliance (waterfordgoodfood.com)
Farmers' Markets:
Dungarvan The Square Thursday 9.30-2pm (Siobhain La Touche – 086 3940564 www.dungarvanfarmersmarket.com)
Kilmacthomas Credit Union Car Park, Main Street Thursday 9.30-2pm            (Eithne Mackey -086 1073074 Email:hartleys@eircom.net)
Lismore The Castle Avenue Sunday 9.30-4.30pm (Starts Sun 18th March-Nov) No Known Contact