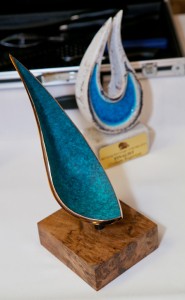 BIM, the Seafood Development Agency, came up with a great idea when they decided to BIM Final Young Fishmonger Awards  2013 hold a competition to winkle out the brightest and best of Ireland's young fishmongers. These innovative awards are designed to recognise and reward the enthusiasm and professionalism of a new generation of fishmongers who are making waves in towns and villages all around the country and attracting new business with their smart shops and customer-friendly service.
The inaugural BIM Young Fishmonger of the Year Awards were held this week at a ceremony at Radisson St Helens Hotel, Stillorgan, and the 2014 Young Fishmonger of the Year was announced: James Kirwan of East Coast Seafood in Naas, Co. Kildare was the overall winner, selected from a shortlist of five finalists, all of whom exhibited a dynamic and innovative approach to seafood retailing, coupled with an outstanding knowledge of seafood.
Senator Feargal Quinn was the ideal guest speaker for the event and Ireland's most famous (albeit former) shopkeeper congratulated all the finalists, particularly commending their passion for the business.
Describing the initiative as 'part of BIM's ongoing commitment to attracting and supporting young people in the seafood sector', Jason Whooley, CEO of BIM, said out that young entrants to the industry are crucial to its ongoing development and that the finalists brought together 'some of Ireland's most competent, knowledgeable and progressive young fishmongers'.
He continued by saying, 'BIM was delighted with the calibre of entries which paint a bright future for the seafood retailing sector.  Throughout all stages of the competition, the judges consistently said how impressed they were at the overall knowledge, skills and commitment demonstrated by all the finalists.  We look forward to running the competition again in the years to come and encourage all young talented Fishmongers out there to give it a shot!'
As overall winner of the competition James Kirwan will be offered a study trip to France, a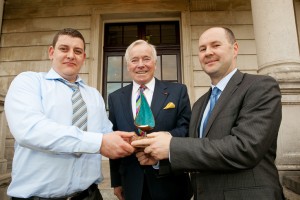 placement in a top seafood restaurant kitchen and free attendance at BIM's retail development workshops.  Along with a specially designed trophy, James will also receive a business development package to assist with the future development of his outlet.
The four other finalists were also presented with a trophy and a business development package by Senator Feargal Quinn on behalf of BIM.
The competition judges focused on each of the applicant's technical skills, their product knowledge, business planning and their overall customer service.  The applicants underwent three different stages of scoring, including two unannounced shop visits where they were put through their paces by judges seeking to assess their technical and customer service skills.
Each finalist also had to undergo a skills assessment, where they were asked to perform a variety of technical tasks within a 30 minute timeframe.  Finalists were also required to discuss their plans, opportunities and challenges for their business and outline how they would use the business development package.
The other finalists for BIM's 2014 Young Fishmonger of the Year are:
John Feeney, Galway Bay Seafoods, New Docks Galway;
Graham Rogerson, George's Fish Shop, Monkstown Farm, Dun Laoghaire, Co. Dublin;
George Stephens  Jnr, Stephens Fish Market, Mullingar, Co. Westmeath & Maynooth, Co. Kildare;
Arnaud Lepricey,  Wrights of Howth, 14 West Pier, Howth, Dublin 13.