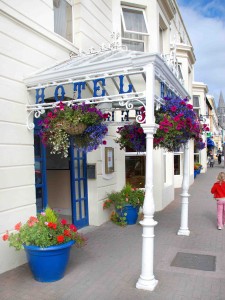 'Heartbreak Hotels', Ian Kehoe's Special Report on the hotel industry in The Sunday Business Post (15/7/12), made grim reading. Not so much because of any new information that it presented – most of the contents would already be familiar to anyone who has been following this sad saga – but because it brought together so many strands in one well-structured dps, with commentary from well known figures representing the losers and 'winners' of our beleaguered hotel sector, and underlined the chilling indifference of the banks to their casual destruction of the businesses they once so easily claimed to support.
Equally chilling perhaps, to lovers of real Irish hospitality, was the opinion of respected hotelier Pat McCann (founder of Dalata Hotel Group and Dalata Management Services) that "The days of small family-run hotels are numbered". While he is right in saying that "Local properties need to club together and pool their resources to survive", family-run businesses are the beating heart of our hospitality industry.
In the same way that our small food producers are finally being given the mainstream recognition that is essential to their survival and future development, our family-run hotels need to be valued and nurtured for the unique contribution that they make to everyday Irish life and, through it, the genuine visitor experience – and, while 'economies of scale' may indeed be necessary, the lifeline that needs to be thrown to them most urgently is a fair local rating system based on percentage of turnover. It's hard to understand why there is such obdurate resistance to reconsidering council charges, when the demands made by businesses are so obviously justified.
How much poorer we would all be without our nice old-fashioned hotels – some of which, such as Co Donegal's Highlands Hotel (home to the MacGill Summer School) punch far above their weight, while many others are a constant source of relaxation and reassurance through all the activities and warmth they provide.
Think Arnolds Hotel in Dunfanaghy; Foyles of Clifden; Keenans of Tarmonbarry; Dingle Skellig: Casey's of Glengarriff; Sheedys of Lisdoonvarna; Lake Hotel Killarney; Stella Maris Hotel Kilkee; Gougane Barra Hotel; Bush Hotel Carrick-on-Shannon; Casey's of Baltimore; The Brown Trout Aghadowey …all at the smaller and 'less posh' end of the spectrum in the family-run sector, these and others like them have such character and contribute way beyond their size.
And then there are the historic houses – like Longueville House Mallow; Hunters Hotel Rathnew; Gregans Castle Ballyvaughan; and Bushmills Inn – and more substantial properties, many of which also have a long and distinguished history, such as Kee's Hotel Ballybofey; Killarney Royal Hotel; Granville Hotel Waterford; Dunraven Arms Adare; Ballynahinch Castle Connemara – and supreme examples of the Irish hotelier's art like Kelly's of Rosslare and the Park Hotel Kenmare. The list could go on and on, but imagine an Ireland without these gems…
We at the Guide are not against change where it is for the better. There is room for – indeed a need for – diversity in Irish hospitality and we have always been happy to recommend large modern hotels, including chain hotels, where it is merited and especially for guests seeking the best business and conference facilities. But don't let's allow the big boys to trample on our small family-run businesses – they are not just a nod to our past, but vital to Ireland's future.