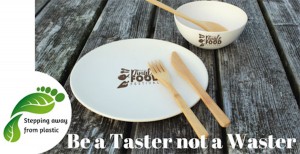 Failte Ireland Food Champion Anthony O'Toole explains what is particularly special about three of the best Irish Food Festivals held in 2017
Well, this seems to have been the quickest year ever. Maybe I just too busy to stop, relax and enjoy the little sunshine and heat we have seen this year – or to keep up with my monthly diary updates. To be honest, it was hard to know where to start to update on our activities, as all 21 Food Champions have a number of food tourism projects on the go and are partaking in others.
So, I have decided to recap on just three festivals. Yes, there are many I could write about but these three especially merit mention as they principally took a stance on food waste, worked on strengthening their community and raised awareness about their local culinary and artisan talent. I'm also going to briefly talk about a few worthy initiatives launched by Fáilte Ireland.
At the Dingle Food Festival (29 Sep -1 Oct), there was a huge focus on reducing waste as they started on the road to become a zero-waste festival. Festival goers were encouraged to buy and use subsidised and re-useable bamboo cutlery packs in an effort to reduce plastic waste generated by hosting a festival of this size.
Rinsing stations were situated around the town allowing people to clean their dishes between tastings along the famous 70+ Taste Trail. Where disposables where offered, vendors were asked to use compostable containers and cutlery, and people were asked to use the compost bins provided at each rinse station. This initiative was supported and subsidised by Kerry County Council and an awards scheme was in place to highlight vendors who participated in this worthy activity.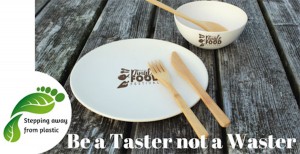 Well done Mark Murphy and the whole festival committee for starting this process, which I'm sure was hard to implement and coordinate at a major food festival.  I think all festivals, big and small, should be encouraged to follow the zero-waste path. It can be done, I know Jack Crotty (of The Rocket Man in Cork city) and Dee Laffan (food writer and Chair of Slow Food Dublin) embarked on a Food on Board project at Body & Soul Festival this year, where all food was served on wooden boards which were washed and reused with all food waste composted on site. The new 'Slow in the City' festival implemented this concept as well, more about that below.
In its 15th year, FEAST Cork (formerly Midleton Food and Drink Festival) took place over a week in September and built on its strong foundation, with events including the family favourite Street Festival on the Saturday. Fellow Food Champion, Kevin Aherne has strongly promoted the rebrand, resulting in the growth of the festival beyond the town of Midleton to become an event about culinary talents of all kinds in East Cork, including producers, chefs and independent shopkeepers, all coming together to celebrate the harvest season and share their skills and stories with the wider community. Even the Farmers' Market at the Street Festival was entirely made up of local producers.
It was great to see colloboration between the Food Champion network, with Patrick Ryan from Firehouse Bakery going along and sharing some of his sourdough magic. It is now becoming a regular occurence to see #FoodChamps popping up at other festivals and events.
Hats off to all the people behind FEAST for stepping up a few gears and showing what can be done if we refocus on what a food festival should be about. As Ireland is hitting a peak in terms of food festivals, it is great to see changes like this and I'm hoping other festivals will follow suit in terms of having a proper Farmers' Market and Street Festival, and focus on talent in the region and the unique story surrounding its landscape, instead of opening doors to the same festival vendors who go from festival to festival selling low-quality food such as industrial sweets, burgers, and the trendy barbecue meats. Quite frankly, these vendors are making a lot of cash, which is rarely invested back into the community afterwards. I avoid them and I encourage you to do also.
Food festivals were created to celebrate what a particular town or region has to offer and to strengthen a community, not to flog cheap imported foods to locals, visitors and tourists! Work with what you have and invite neighbouring regions to join, collaborate and participate. Maybe do some cross-collaboration. Wouldn't it be lovely to see a stand in Wexford pershaps showcasing best of Sligo food and craft, and vice versa. Brid Torrades, let's chat about this. Or even Waterford, looking at you Claire Dalton. Don't worry #FoodChamps, I'm not favouring Sligo and Waterford over any other county, there are just so many possibilities…..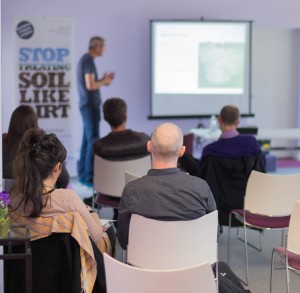 For the third festival, it has to be Slow Food Dublin's inaugural 'Slow in the City' festival [, which took place on Sunday, October 29th, in Sophia of Dublin 8 - and not just because I'm one of the committee members, along with Dee Laffan, mentioned above. Initially hosting this festival, Slow Food Dublin wanted to support and highlight Dublin 8 community projects like Sophia's - a charity offering residential care for homeless people in Dublin. The one-day event comprised of an upbeat line-up of adult and children workshops, a symposium, and a small market well stocked with produce from Dublin. The theme of this years festival circulated around the 'The Health of Irish Soil' with talks and presentations from small holders, horticulturists, urban gardeners, producers and chefs, all of whom live and breathe the Slow Food ethos every day in their work.
As mentioned, Slow in the City operated the Food on Board initiative where all food was served on boards in the market and only food waste and recycling bins where available to use – with a little planning and lots of reminders, a zero-waste policy can be implemented. We are now working towards hosting a bigger festival on July 22nd next year .
Over the last few months, you might have noticed that Fáilte Ireland has launched a few interesting initiatives in order to support and drive the growth of food tourism in Ireland. Two to note is Ireland's Ancient East 'A Guide for Food & Drink Visitor Experiences' and the #TasteofPlace initiative inviting national visit attractions to enhance their menus with local produce and attend workshops across the three regions. Read more about this new food innovation programme here [ http://www.failteireland.ie/Footer/Media-Centre/Failte-Ireland-'Prep'-Visitor-Attractions-to-Enhan.aspx ].
People initially reading this who are heavily involved in the industry might think, just another brochure produced by our National Tourism Development Agency. To be honest, I think this occasionally as well. But sometimes I need to remind myself that we are a minority. Spending more time back in my home county (Wexford) immersing myself into local communities through working on culinary and agri-food tourism projects, shows me that a lot of work still needs to be done before Ireland can be fully acknowledged as a food island. Updates and workshops will help and guide businesses to move forward. Telling and showing businesses that "food has an unmatched ability to communicate a unique sense of place – providing a direct connection to the place, the people and daily life" encourages change.
Anyone involved in the food tourism sector should explore the free reports and toolkits found on the Fáilte Ireland website.
And, not forgetting about our collaborative account @ThisisIrishFood [  https://twitter.com/ThisisIrishfood ]. Through this account, we aim to celebrate Irish food and the people and places that make it. You can help us spread how special Irish food is by placing the hashtag #thisisIrishfood on any tweets you do linked to Irish food and drink. If you have relations or friends overseas visiting, please do ask them to join and share their culinary adventures here.
For more information about the Food Champions, please click here http://www.failteireland.ie/Supports/Food-Tourism-in-Ireland/Food-Champions.aspx .