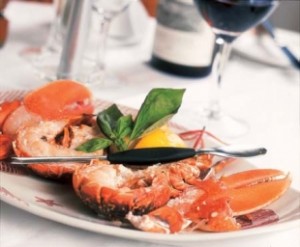 Open over 40 years now, the King Sitric Fish Restaurant in Howth
is one of Dublin's longest-established seafood restaurants – or any other kind of restaurant, come to that, although the restaurant at the Abbey Tavern, just up the road has been in business even longer, dating back to 1956 believe it or not.
Set comfortably at the head of the east pier in Howth, the King Sitric is perfectly placed for owner-chef Aidan MacManus to see when the fishing boats come in, and to keep an eye on the lobster pots just over the pier in Balscadden Bay. It's renowned as a fine dining destination, which is only right and proper as Aidan is a great classical chef (and one of Ireland's unsung culinary heroes); but Aidan and his wife Joan, who is the manager, have always gone to enormous lengths to make their restaurant accessible to everybody and it would be hard to find a better set of menus anywhere in the country when it comes to offering something to suit all possible occasions and budgets – and they were providing customers with information about their suppliers (and giving the names of locally landed fish in six languages) long before it was popular or profitable too.
Some years ago they decided that their comfortably ramshackle series of rooms with its mismatched antique furniture and open fires needed a makeover and they did a re-build, resulting in the smart brick-red two-storey building that's now a landmark at the far end of the harbour. As accommodation was added at the time, the entrance was moved away from the old traditional front door in the centre to the side of the building where it conveniently served both restaurant and rooms. But it never said 'welcome in' the way an old classical door placed squarely in the middle of a building does – and I never realised just how much we all missed that until they opened a new café, 'East Café-Bar', a few weeks ago – and re-opened the main door. Now, with attractive seating outside, jaunty striped awnings over the lower windows and that lovely doorway inviting you in, it's a place it would be hard to pass by.
And it's already proving a real winner – offering a limited menu, fantastic food and great value, it's just what people want today and they can't get enough of it. So if you fancy the likes of the best chowder you'll find anywhere (and Aidan's famous brown bread to go with it), oh-sooo-fresh crab salads and posh fish'n'chips made with featherlight batter, just head out to Howth and keep going until you reach the East Pier. Magic!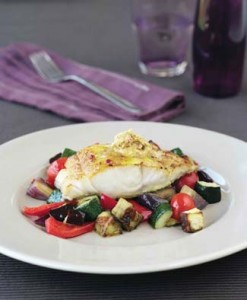 RECIPE: King Sitric Baked Cod on Ratatouille with Curry Butter is a lovely summery dish from our seafood cookbook, From Tide To Table. As the new season produce begins to make its way into your kitchen, this is sure to become a favourite.
Serves 4
50g/2oz plain flour
1 tsp hot curry powder
175g/6oz skinless cod fillets, any pin bones removed
2 tbsp olive oil plus extra for greasing
For The Curry Butter
100g/4oz butter
2 tbsp finely diced red onion
1 small garlic clove, crushed
1 tbsp hot curry powder, or to taste
2 tbsp diced peeled cooking apple
For The Ratatouille
2 tbsp olive oil
1 red onion, halved and sliced
1 garlic clove, crushed
1 red pepper, halved, seeded and diced
1 aubergine, trimmed and diced
1 courgette, trimmed and diced
225g/8oz cherry tomatoes
salt and freshly ground black pepper
First make the curry butter: Heat a knob of the butter and gently sauté the onion and garlic for 3-4 minutes until softened but not coloured. Stir in the curry powder and cook for another minute, then add the apple and continue to cook for another 4-5 minutes until the apple is completely tender.
Remove from the heat and leave to cool completely, then beat it into the remaining butter in a small bowl and season to taste.
Transfer to a square of non-stick parchment paper and roll up into a cylinder, twisting the ends to enclose. Chill for at least 2 hours until firm; it can then be sliced and used as required.
To make the ratatouille: Heat the olive oil in a heavy-based frying pan and sauté the onion and garlic for 3-4 minutes until softened but not coloured. Stir in the red pepper, aubergine and courgette, cover and cook slowly for about 20 minutes, stirring occasionally.
Stir in the cherry tomatoes and cook for another 5 minutes until the skins begin to split. Season to taste. This can be made in advance and gently reheated when needed.
To cook the fish: When almost ready to serve, preheat the oven to 180ºC/350ºF/Gas 4. Heat a large frying pan. Place the flour and curry powder on a flat plate and season to taste. Stir to combine and then use to dust the cod fillet, shaking off any excess.
Add the olive oil to the heated frying pan and then add the dusted cod fillets. Cook for 1-2 minutes each side until nicely sealed. Transfer to an oiled baking sheet. Cut the curry butter into slices and arrange on top, then roast in the oven for 6-8 minutes or until cooked through.
To serve: Place a generous bed of ratatouille on each warmed plate and arrange a piece of cod on top. Add a slice of curry butter and drizzle over any remaining cooking juices.