The world of Irish food and hospitality lost a great friend this week with the passing of the legendary Myrtle Allen, the 94 year-old 'mother of modern Irish food'.
Together with her late husband Ivan, she founded Ireland's premier country house destination, Ballymaloe House in County Cork, in the 1960s, and was later a driving force in the establishment of the Irish Country Houses & Restaurants Association (now 'Ireland's Blue Book'), which not only created a unique way for visitors to experience the best of Irish food and hospitality but also offered a new way forward for some wonderful properties that might not otherwise have survived for us to enjoy today.
She would not have liked the term iconic, but visionary, inspiring, down to earth and determined are all words that hint at the qualities of this remarkable and much-loved woman - and it is very fortunate for us that she chose to focus her formidable talents on giving local Irish seasonal produce the star status that it deserves.
She began by showcasing the home grown and locally produced foods she so much admired in the Yeats Room restaurant at Ballymaloe, which opened in 1964.
Simply presented country cooking that relied on allowing the exceptional flavours and textures to speak for themselves was not what people were expecting when they went out for dinner in the 1960s and '70s – and even the Allens' six children were reportedly disappointed to find that fancier fare wasn't being served in the restaurant when they returned home from school for the summer holidays.
But it was a breath of fresh air at a time when foreign imports and processed foods were more highly valued than fresh local produce – and it went down a treat with some influential guides, including Egon Ronay and Michelin, making Ballymaloe an international destination from an early stage.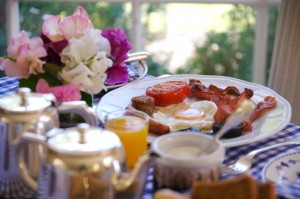 The 1980s saw  some extraordinary developments, including the opening of the Paris restaurant,  'La Ferme Irlandaise', in 1981 – loading her car up with fresh produce and heading for the ferry after service on a Saturday night, Myrtle made sure that they would serve only the best of Irish food.
Then, in 1986, Myrtle established the Irish branch of the international chefs and cooks association Euro-Toques, which was founded by a group of leading continental chefs, including the late great Paul Bocuse, who recognised that traditional foods and farming were under threat and determined to work together to protect them, support local producers and lobby for better legislation.
For her fellow founding commissioners, Myrtle chose John Howard of Le Coq Hardi in Dublin, Declan Ryan of Arbutus Lodge in Cork and the late Gerry Galvin of Drimcong House in Galway - and she chose well, as the Irish branch has thrived and membership now stands at nearly 200 chefs who actively support local producers and are committed to being 'the custodians of Irish food culture'.
As her daughter-in-law Darina Allen, of Ballymaloe Cookery School, continues to do (notably through her involvement with the international Slow Food movement), Myrtle championed many causes relating to small food production, with one especially long running saga being the raw milk (and raw milk cheese) issue.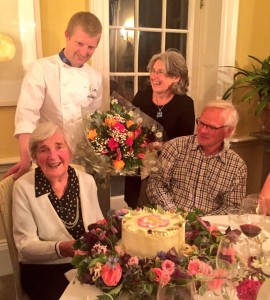 While Myrtle's achievements were widely recognised in high places later years, she was always warmly accessible and seen as a much-loved friend by everyone from fellow chefs to producers and food writers.
Fellow Irish Food Writers' Guild members have been especially proud to count Myrtle as a dear friend and colleague for many years, and this tribute by current Chairperson, Kristin Jensen, speaks for us all:
"It's impossible to overstate the impact that Mrs Allen single-handedly had on Irish food and hospitality. While the development of Irish food over the last five decades may now seem like a logical progression, much of it is down to the vision, hard work and determination of one person: Myrtle Allen. Her philosophy of serving simply prepared, seasonal, local food and supporting local suppliers put her ahead of her time. She championed our top-class produce when no one else was and showed us – and the world – that the food on this island is something special that we should be proud of.
The words used to describe her are ones like visionary, pioneer, trailblazer, inspiration, legend. She was, and will always be, one of the towering figures of Irish food. We are all the richer for her lasting contributions to the Irish food culture."
We extend our deepest sympathy to all of the Allen family in their great loss – and the many friends and colleagues who experienced Myrtle's warmth and care for others will miss her like a much-loved family member too.