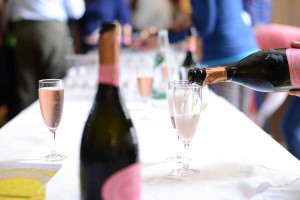 Just a few days to go to the Kerrygold Ballymaloe Literary Festival of Food and Wine (Friday 15th- Sunday 17th May) …! Admitting that this "could just be the longest title of a food festival anywhere in Ireland", DARINA ALLEN says things are really hotting up at Litfest HQ and, although some events are booked out, there are plenty more with tickets still available – and loads of free events too.
The action takes place at Ballymaloe House, the Grain Store, The Big Shed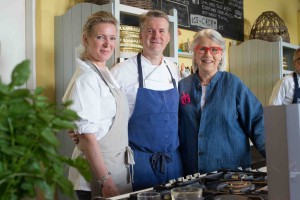 and at the Ballymaloe Cookery School in Shanagarry. Again this year, we've got an amazing line up of speakers, workshops and events. The Food and Drinks Theatre has expanded and the Fringe Festival in the Big Shed at Ballymaloe is exploding!  I can scarcely keep up with all the exciting developments. Just keep checking out www.litfest.ie. So here's a taste of what's to come.
Alice Waters is coming at last.  She had planned to be with us for the inaugural Litfest in 2013 but had to cancel just days before because of a fire at Chez Panisse, her legendery restaurant in Berkeley in California. She's really excited to be coming to Ballymaloe once again and texted the other day to say she's counting the days – how sweet is that.
We've also managed to entice Christian Puglisi from Relae and Manfreds og Vin in Copenhagen. He'll share his intriguing story and talk about his new award winning book Relae.
April Bloomfield described as the 'best woman chef in America', burst onto the New York food scene with her cooking at The Spotted Pig gastro pub plus John Dory, the Breslin…she'll be doing a cookery demonstration on Saturday May 16th at 9.30am.
Sarit Packer and Itmar Srulovich of Honey & Co in London are sweethearts, they too are coming over. Their dinner is sold out but they'll be with us all weekend so you can get your Honey & Co book signed.
Sam and Samantha Clark of Moro and Morita's dem is also sold out but they are in conversation with Rory O' Connell in The Grain Store on Sunday May 17th at 2.30pm.
Don't miss my friend, David Tanis, New York Times food correspondent and chef at Chez Panisse for 25 years. He will read from his book award winning, One Good Dish.
Multi award winning Parisian, author and blogger David Lebovitz who also came to the New York launch is participating in several sessions.
Lovers of Chinese food won't want to miss Fushia Dunlop,  described as the best writer in the West on Chinese food, she'll do a cookery demonstration at the Cookery School on Sunday.
And there's Allegra McEvedy, Rachel Allen will host her cookery dem at the Ballymaloe Cookery School on Saturday May 16th at 10am.
Jack Monroe is a fresh new voice in food you can also bring your child,  FREE to Jack Monroe's Parents and Children's interactive cookery dem at 2pm on Saturday.
We've also got an amazing line up of Irish chefs. Kevin Thornton, from Thornton's restaurant in Dublin, JP McMahon from Cava and Anair in Galway and Leylie Hayes and Hugo Arnold….
Several past Ballymaloe Cookery School students as well as Leylie Hayes will strut their stuff, food historian Dorothy Cashman, Green Saffron, Spice King Arun Kapil and Charlotte Pike who will do a Fermentation workshop to coincide with publication of her new book Fermented Food and Drink. Check out cookbook chronicles with Caroline Hennessy. For budding food writers Regina Sexton will host a UCC Food Writing workshop.
………This year for the first time, Cully and Sully have teamed up with  Michael Kelly to create Veg About beside the Big Shed. It's all about sowing, growing, eating and composting – a celebration of the great food cycle from plot to plate. There will be a Garden Tent where there is Rants, Raves and Ruaille Buaille, Banter with Jim Carroll. Don't' miss foraging with legendary Roger Phillips,  Alys Fowler…..
The Litfest fringe in the Big Shed continues to gather momentum. Can you imagine it could be even more happening than last year?
A wide range of local and national artisan food producers, art installations, upcycled furniture by Elemental Design and wonderful artists like Aoife Banville, Yvonne Woods and Sharon Greene.
Camilla Houston will be in the Family Corner, she has organised fantastic interactive, educational and fun activities for children to get involved in.
Sommelier, Colm McCan is the Wine and Drinks Events Manager of the Food and Drink Theatre. Wait, till you see what he has in store natural wines, artisan beer and ciders, spirits and cocktails, you'll get to see cocktail guru Dave Broom and Nick Strangways, master gin distiller Desmond Payne. One of the top brewmasters Garrett Oliver from America will be here and coffee guru Tim Wendelboe comes all the way from Norway.  He'll tell you the story of Bean to Cup.
Jancis Robinson MW is back again this year, don't miss Wines New Wave Lighter and Fresher on Saturday at 2.45 in the Drinks Theatre
And there's SO much more – just keep checking out www.litfest.ie.check out the website for events. Though most events are indoors, storm the heavens for good weather.