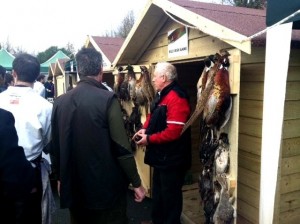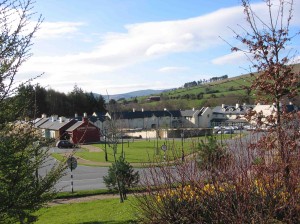 Calling all foodies with a bit of time to spare this weekend, 10th and 11th November… A very special outing, which combines an unusual shopping expedition with the possibility of attending some highly instructive workshops, is the Slow food Ireland Wild&Slow Festival (10th &11th November), which returns to Macreddin Village in Co Wicklow for the second year this weekend, to showcase and celebrate everything that is good about Irish food – fresh, local, traditional and wild. Its profusion of wild foods makes the Garden of Ireland the perfect location for this event, and BrookLodge Hotel at Macreddin (home to Ireland's only certified organic restaurant, The Strawberry Tree) is the ideal host location.
Wild&Slow celebrates all that is good about Irish foods – fresh, local, traditional & wild – in a WinterFest Style Market: think wood-burning braziers, mulled wine and roasted chestnuts… With hundreds of homemade foods on display, it's the perfect place to buy those foodie gifts, and there will also be Wild Workshops, Tastings, Talks and Demonstrations – and the wise slowie will arrive early or stay on a night or two when it's quieter, to enjoy the countryside (and the gorgeous food) at a slower pace.
The Wild&Slow weekend runs from 12 to 8pm each day on Saturday and Sunday, 10th and 11th of November. Reservations can be made in the adjoining BrookLodge Hotel & Spa, Macreddin Village, to make the most of the occasion. For reservations contact 0402 36444 or visit www.brooklodge.com.
Also celebrating wild food this weekend is a rare treat at Ballymaloe Cookery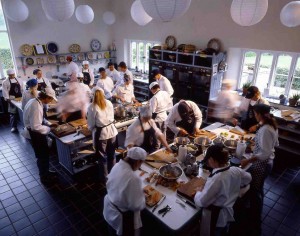 School, where the inimitable George Gossip, of the Hidden Ireland property Ballinderry Park near Ballinasloe, Co Galway (which offers game weekends), is giving a one-day Game Course.
Described by Darina Allen as 'the best game cook I know', she says "he'll have pheasant, snipe, partridge, wild duck, pigeon, woodcock, venison, rabbit and maybe even a hare, all spiced with George's irreverent wit. He'll take the mystique out of plucking, gutting, singeing, stuffing…. and will entertain us all along the way."
1 Day Course on Saturday 10th November 2012, 9:30am to 5:00pm
2 Demonstrations (no practical work)
*Price:* €255.00
Game lovers shouldn't miss this course.
Further details/booking: Ballymaloe Cookery School, Shanagarry, Co Cork. www.cookingisfun.ie; 021 4646785