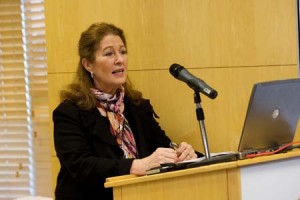 Nothing But The Best - Irish Hospitality Back In Fighting Form
Meet the leaders at the Georgina Campbell Awards!
After what has turned out to be a record year in many ways for Irish hospitality - with accommodation bookings well up almost everywhere and a dizzying number of new restaurant openings, especially in Dublin - the poor summer weather doesn't seem to have dampened spirits and there's definitely a relieved smile on the faces of many hard working hoteliers, restaurateurs, chefs and food producers this year. Irish food and hospitality continues to play a leading role in Ireland's recovery, and some of the nation's top businesses and personalities will get again due recognition for their unstinting efforts on
Wednesday September, 30th
, with the announcement of the annual Georgina Campbell Awards.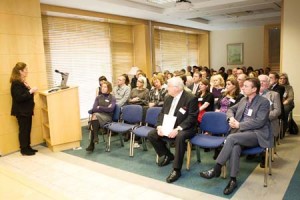 Associated with the respected independent
Georgina Campbell's Ireland
guides,
and Ireland's most popular independent hospitality website
ireland-guide.com
, these are Ireland's longest-running hospitality awards, and highly respected by the industry.  Unlike all the other predictable, commercially-led awards, the Georgina Campbell Awards always include some unexpected choices and out of the way surprises – and, importantly, they are more than the sum of their parts as each selection is not just an accolade but illustrates a key point, so the collection as a whole gives a valuable snapshot of the best of Irish hospitality today. Commenting on the Awards, Georgina Campbell said, "Despite being a disappointing summer, travelling around Ireland has been a tonic this year because business has been so much better in almost all areas. Owners who have weathered the recession are now optimistic again and, in some cases, reporting a
record season
. Visitors from abroad are noticeably up, with the Euro countries especially well represented and a good showing from America and other more distant places, including Asia and Australia. This is especially noticeable on
islands
and right down the West coast - an area that, despite its beauty, has always being challenging - with
improved access
through Shannon Airport often cited as a crucial factor, and also the
Wild Atlantic Way
, although that also has its downsides, including increased 'nuisance traffic'." Whilst
closures
are still occurring, the number of new businesses opening continues to amaze, especially in Dublin and other cities.
New openings
are again mainly in the bistro/café categories, with tea rooms continuing to feature strongly and, although the term 'gastro-pub' is often misused, the amount of pubs offering quality food is encouraging, especially the growing number of brew pubs attached to microbreweries. This reflects not only an international trend towards informal dining and fundamental changes arising from the recession, but also the massive shift brought about by the phenomenal success of
craft brewing
. But anyone who thinks that fine dining is dead would be wrong, as there is always a need for top end formal restaurants. However, the trend continues for classically trained chefs to open secondary restaurants or café-bars alongside a fine dining flagship restaurant, or to opt for a more relaxed experience (
'fine dining without the fuss'
) when setting up business on their own. "This is good news for everyone who eats out," according to Ms Campbell, "as they generally offer some of Ireland's best cooking, serving well sourced and stylishly presented food with real finesse. This is far from being a new phenomenon though - a fact that is reflected in our Awards." On the
changing trends in Irish hospitality
, Ms Campbell said, "There is an ever-growing awareness of the importance of food provenance and seasonality. Making the link between local Irish suppliers (including craft brewers), restaurant kitchens and, ultimately, the customer continues to be a strong trend. More
Food Trails
are being developed all over the country, allowing consumers to engage in the farm to fork (or forager to fork) experience and, at their best, they are an enriching experience on both sides. While it is early days for food tourism here, there is a fast-growing movement among committed professionals to develop Ireland as a prime destination for
food tourists
, as opposed to simply offering good food to all visitors, domestic and international (although much work remains to be done in that area too). The importance of 'A Sense of Place' is increasingly recognised by chefs who are proud to champion local producers on their menus, sometimes with very focused offerings such as the '12 mile menu'. The best waiting staff expertly explain provenance to customers in an engaging manner - although
poor service
has once again been an issue in too many establishments this year and the ongoing  
shortage of chefs
constitutes a national crisis. Government support is still needed to avert a situation that threatens the upward trend in Irish tourism, but proprietors also need to take control by understanding the value of investing in staff training - something which is also reflected in our Awards once again this year."
Top categories to be awarded on the day include :
Georgina Campbell Award
(for an outstanding contribution to Irish food & hospitality)
Hotel of the Year
Restaurant of the Year
Chef of the Year
Pub of the Year
*Several of the top awards go to establishments outside the capital again this year The awards also cover many
other important categories
including the
'Just Ask' Restaurant of the Year
(sponsored by Bord Bia), while more unusual categories include the
Pet Friendly Hotel of the Year
–
which, says Ms Campbell, "will be of special interest to the Irish (who have come to love holidaying at home) and visitors from Britain, who often decide where to travel according to where their dogs are welcome." Ms Campbell remarks that "Many of the 'smaller' awards are especially important as the small owner-run establishments are uniquely able to provide the
genuine Irish experience
that so many visitors seek - and we are always on the look out for special
Taste of the Waterways
places near our wonderful rivers, lakes and canals, where the real Ireland is waiting to be discovered." But it's not all good news and Ms Campbell reports that "We have once again encountered some
disappointing experiences
this year. In addition to unacceptable let-downs in 4* and 5* properties, some of the most unexpected disappointments were in owner-run businesses when the proprietors were absent." Prices are rising again too, not only threatening our hard-earned competitive edge but also galling to customers where the cost is not matched by improved quality. "Although the low prices demanded in the recession may not have been sustainable, raising prices without raising the bar is not acceptable," said Ms Campbell. "Admittedly, many of the smaller owner-run properties have not yet recovered from the recession and can't afford refurbishment programmes - while, paradoxically, some of our 5* hotels are seeing massive investment in refurbishment (much needed in some cases), yet it is the sector most likely to disappoint in terms of overall guest experience. There have also been plenty of mediocre, and some downright awful, dining experiences. But there are also
many dedicated people determined to send their customers home happy
, and their high standards set the bar for Irish hospitality as whole." The rise of unregistered accommodation - recently exacerbated by the popularity of airbnb - continues to be worrying, with a growing number of established businesses opting to de-register from the Failte Ireland Approval scheme to reduce their cost base - notably to avoid local rates, which tend to be unfairly levied and many feel should be based on turnover alone. "The Guide does not promote unregistered accommodation," Ms Campbell said, noting again that it is illegal to open accommodation for business n Northern Ireland without inspection and certification by NITB, but that there is no such requirement in the Republic. "Our visitors and our leading hospitality businesses both deserve better. Some establishments are letting the side down, and it is not a level playing field in business terms. We are repeating the call that we have been making for many years now - that we urgently need a simple and inexpensive system of registration, perhaps independent of Failte Ireland." Regarding the selection process, Ms Campbell said "
Our rigorous programme of anonymous assessment visits
continues all year; the resulting reports are then fed through to the website,
Ireland-guide.com,
which provides a wealth of information and updates for our printed guide,
Georgina Campbell's Ireland, The Best of Irish Food & Hospitalit
y which is published every couple of years."